December 28, 2007

India, July 2007

I just astonished by number of restaurants here in Vadodara, in the shopping center, on the footpath, side road …..how they can survive only providing vegan food…everything in vegetable…chow mein, chopsuei, pizza, burger....oh.. la..la…..How many is the vegan out of population ? 2/3, ½ I don't know......
I always feel the need of eating from something alive …like ..sucking the chicken blood…lol… j/k...no .. i am just potato's bag, I eat everything….but rice without meat is tasteless…
Recently, I've seen an ads on newspaper, a home delivery resto providing 1 kg chicken curry, mughlai biryani, roti and onion raita only 325 rupees, sound a good idea, no need to go out in the these rainy days, I called to order and 1 hour later it had been in my hotel room ready to digged in….
The chicken curry is so tasty..hm…I didn't taste any masala in it…, 25 pieces nan/rotis, don't know who gonna eat it up..i used to eat curry with rice, mughlai biryani rice, oily rice with chopped parsley and lots of raw cumin, not grounded , it's tasty too, 1 plate of sliced shallot..ka…ka…kak lol... I didn't touch it…better stayed away….poisonous….. nah… smelly…nah…..it would have me in tear of laughter ……1 plate of sliced shallot just unbelievable ..what I gonna do with it….
December 27, 2007

Sometimes i got irritated when taking public transport. especially bajaj/3 wheeler, tuk tuk which the fare is not fixed, usually the driver just pull the fare from the air..so i have to bargained, though i't's a hassle..and end up paying more that usually other people paid, this is certainly not nice because i felt i've been cheated....
In India i can forget that sort of feeling...i take riksaw/3wheeler whereever and whenever i want without worrying get cheated...why..? it might be a good inspiration for other countries to have this unsophisficated simple little machine on their humble transportation...just like the one on the taxi only it's more simple. It has switch instead of button and screen, when you get on the riksaw the driver turn down the switch that make squeaky sound...and there you go..ready to explore the town and pay for nothing...i mean very cheap...last time i went for 5 kms and charged only 20 rupees including contribution.....20 rupees is equal to 5000 IDR.
December 27, 2007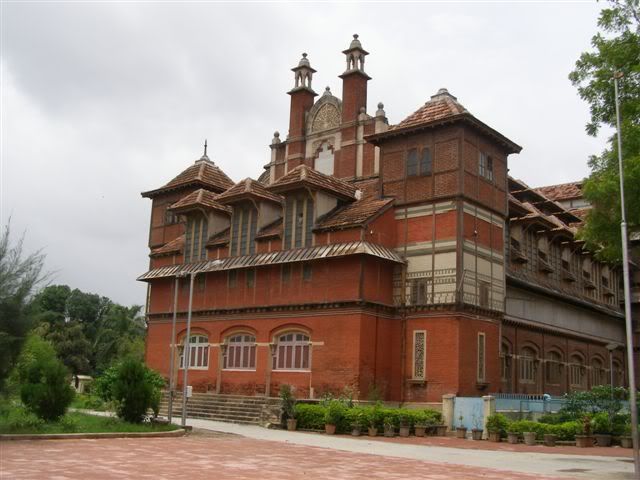 This blog made during my visit to india back in July 2007.
One day I took the kids out to the nearby park, the name is Sayaji Baugh….its huge garden with a little zoo, amusement park, planetarium, museum and rows of tamarind trees which is home of uncountable little chipmunks and monkeys….they 're tame…..
The museum is the most interesting place at this time…so we bought 2 tickets, its cost Rs 200 each for foreigner…..wow.. only Rs.10 for Indian nation…it's Ok ..find with me..
Wow ..it's the most deserted museum ever….I saw less than 10 visitors…yeah it's week day…so students or other elder were no where to be seen.
The museum is more than a century old design by British architects in the Indo-saracenic style….heck.. I don't understand what that's mean…
Like other museums in the world it always has centuries old stuffs…… but this musee has national and international culture and civilization of various human races like Japanese, Chinese, Burmese, Nepal, Tibetan, Greek and Egyptian.
Ara and I scrutinized section by section with amazement…… I left Zeva on the bench in the main hall with Game boy in his hand .....though he won't stop bugging me if he doesn't have any activities..
Save the best for last…….Mummy from Egyptian section is a major attraction in this musee…Ara refused to get in this section as she saw the opened coffin from the entrance….none..in the room …I checked the sculpture and other stuffs …then Ara came in by the mummy…he..he.. she bated breath scrutinized the mummy….then stormed out and screamed… waaaaaaaaa….takut….I went out to calm her down…. it wouldn't hurt someone…it's dead anyway…that was what I told to Ara. Ok, you sat here with Zeva…I'll be back soon…
I backed to the room ..to the mummy….its sealed in the rectangle glass, I could see a horrible sight, dried blood liked seeped on mummy cloth, darkened dried flesh from the uncovered one….suddenly I felt creepy……wee..wee….my feeling said "get out of here"…yeah ..I did….heck…what have gotten me …...this mummy freaked me out……
I came to the kids trying not to show what just gotten on me………