Iran, Islamic Republic Of
January 1, 2012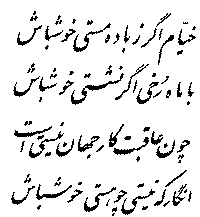 Khayam, if you are intoxicated with wine, enjoy!
If you are seated with a lover of thine, enjoy!
In the end, the Void the whole world employ
Imagine thou art not, while waiting in line, enjoy!

(Hakim Khayyam lived in 11th Century)
December 25, 2011

Love was the only theme,
a long time for my poem,
but nowadays YOU are the main theme,
and I understood you and love are THE SAME...
(Hessam)
December 22, 2011

Hi dudes, This is my first postt on the Blog. I setup-ed the blog after an advice of one of my best friends on Englishbaby.