View all entries from bbbfish >
September 26, 2008

iam so happyknow the news.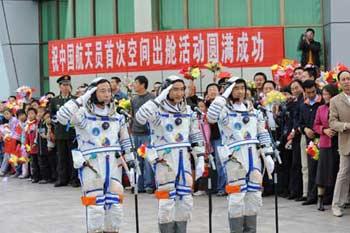 Liu Boming, Zhai Zhigang and Jing
Haipeng attend the setting-out ceremony at the taikonauts'
apartment compound of the Jiuquan Satellite Launch Center
in northwest China's Gansu Province, Sept. 25, 2008. China
counted down Thursday to its third manned space mission
Shenzhou-7 which will include the country's first ever
space walk.
More entries: how find good boyfriend (1), om students being tutors, Grandpa's letter, The Best Kind of Love , The Best Kind of Love , do know the answer? (1), let 's guess, High School Musical , Just do it, shuttle Shenzhou 7 crew members (2)
View all entries from bbbfish >