View all entries from My Blog >
July 6, 2009

I've recently seen so many cosplay videos and pictures and it seems pretty interesting. It's my new craze.
If you don't know what cosplays are then I'll tell you in the simplest of words.
Cosplays = Costume Roleplay
Which means that people dress up like their favourite anime/game characters.

An example would be -
This is a cosplay of Haruno Sakura from the Naruto anime series.
The original character looks like this -
Pretty cool huh?



But it's not really easy to make the costume look exactly like the cartoon character. It takes a long time to make every item and accessory used by the role.
We get to purchase ready-made costumes online or in local stores but they're usually expensive and you don't get them everywhere.
Some even prepare their costumes 2-3 months ahead of the Cosplay Conventions or Anime/Games Festivals.
It truly is an art to make great cosplay costumes and act like the character you're role playing.


Cosplays can be performed individually or in groups. Some teams even re-enact skits from the anime/game or even create their own scripts and make short scenes for entertainment.
Cosplays vary everywhere. It just depends on what kind of even you go to.
Below is a picture of a group cosplay - Ouran High School Host Club, a very popular anime series about high school kids.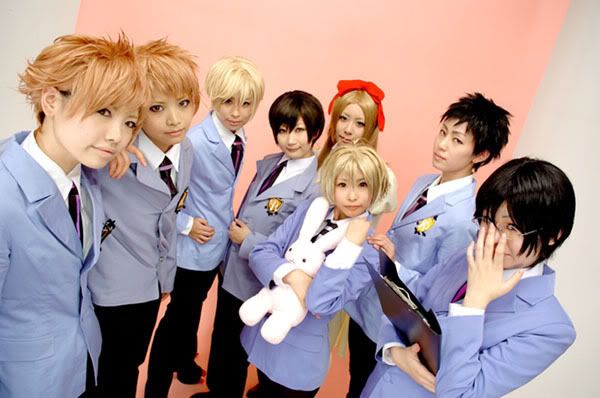 The anime looks like this -
Oh yeah, also, cosplay doesn't mean that you only role-play characters of the same sex. It's very flexible. A lot of people cross-play, meaning even girls role-play as male characters and vice versa.
Most cosplay conventions are arranged in the United States or Canada or Japan. There aren't many places in Asia but they organize
great events and competitions for cosplayers and visitors.
It's A LOT of fun.

More entries: A New Found Obsession - Cosplay (2)
View all entries from My Blog >