Intro
1. Learn Vocabulary
- Learn some new vocabulary before you start the lesson.
2. Read and Prepare
- Read the introduction and prepare to hear the audio.
John is interested in Tanis' life. He wants to know what she's going to do this evening. Tanis doesn't seem to have any exciting plans. She's just going to watch a movie – and she's not very excited about it.She doesn't even think she's going to like the movie.
Dialog
1. Listen and Read
- Listen to the audio and read the dialog at the same time.
2. Study
- Read the dialog again to see how the vocab words are used.
John: So, what are you doing tonight Tanis?
Tanis: Uh, I think I'm just gonna stay in and watch a movie with my boyfriend.
John: Oh yeah? What are you gonna see?
Tanis: I think, uh, we have Six Days, Seven Nights. But, neither one of us has seen it yet, so I don't know. Have you heard anything about that movie.
John: No. You know I remember when it came out. Isn't that the one with Harrison Ford?
Tanis: Yeah, it's Harrison Ford and Anne Heche and all I know is that my parents loved it, which makes me wonder if I'll like it or not.
John: Is it… I… now I know it's not a comedy. Is it a thriller, er… is it? What kind of movie is it?
Tanis: I thought that it was a comedy. I thought it was kind of a romantic adventure comedy or something.
John: So Harrison Ford is playing a comedy role, huh?
Tanis: Well…
John: I don't know, 'cause he's not very funny to me.
Tanis: He's kinda funny sometimes.
John: Yeah but he always plays like that patriot role, you know, where he's, you know, where he's always like serving the government in some role, or…
Tanis: Right. Defending the honor of some woman, or the country, or himself…
John: Exactly. Is he doing that in this? Is he defending her honor, or…?
Tanis: I think that what it was is that he's really, um, sort of this strong-willed, stubborn person and so is she, and they end up getting, uh, they have a plane wreck, and they end up on a desert island…
John: Huh.
Tanis: And then they have to, you know, come together to overcome the obstacles to get off.
I don't really know!
John: All right. OK. Well, why don't you fill me in on Monday.
Tanis: You got it.
John: OK. Thanks.
Lesson MP3
Go Super to download full lesson MP3
The iTEP® test
Sponsored by
Discussion
I guess we'll see if Tanis likes the movie.
I already saw Six Days, Seven Nights, and I actually liked it. It wasn't a great story, but I really like both Harrison Ford and Anne Heche, so I was entertained. I'm not surprised that it didn't win any awards, but it's a good movie for a relaxing evening at home.
Do you think Harrison Ford is funny? Have you seen Six Days, Seven Nights? Let us know! Come to the "Movie Madness" message board.
From the front row,
Zach
Comments
Thailand
Slovakia
Russian Federation
France
Slovenia
Guatemala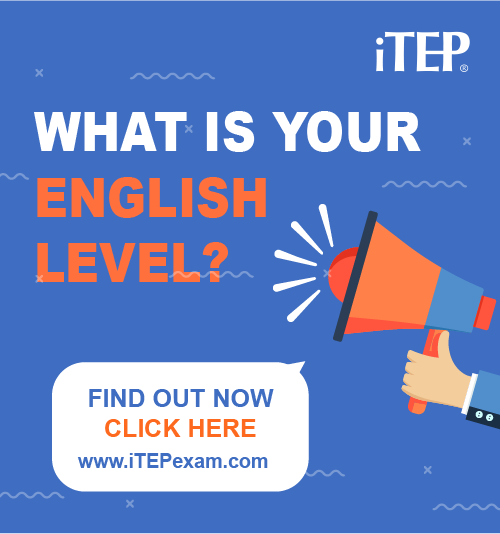 Post Ebaby! lessons on your blog: