Intro
1. Learn Vocabulary
- Learn some new vocabulary before you start the lesson.
2. Read and Prepare
- Read the introduction and prepare to hear the audio.
Plot: A young record store owner gets dumped by his girlfriend. He then starts to think about all the other girlfriends he's had and how they broke up. He decides he should call them all and see what they are up to now.
Clip: In this scene, Laura (Iben Hjejle), who is Rob's (John Cusack) ex-girlfriend comes over to the house they used to share to pick up some of her things. Rob tries to talk to her again about why they broke up.
Dialog
1. Study
- Read the dialog again to see how the vocab words are used.
Rob: Hi.
Laura: What are you doing here?
Rob: I took the morning off. Do you still love me?
Laura: Well, it's not really the issue.
Rob: Why? What else is there? What do you mean? What else is there?
Laura: I don't know. It doesn't change the way we don't get along at all. In fact, I hope we're not in love any more to be honest. It would give me a better opinion about love right now.
Rob: Come on! What, did I beat you? Did I tell you you were a bad person? What the fuck! What should I have done to make you happy?
Laura: Nothing. Make yourself happy.
Rob: Make myself happy. Why am I unhappy?
Laura: Because you're the same person you used to be. And I'm not. And all I've done is change jobs.
Rob: And clothes and hairstyles. Attitudes and friends…
Laura: I couldn't go to work with my hair dyed pink. You haven't changed so much as a pair of socks since I met you.
Rob: Oh, come on, Laura. You're just being stupid.
Laura: At least you used to talk about the future, and now you don't even do that.
Rob: Look, I'm all right. You're the one who hates your job.
Laura: See, you have no clue. I like my job. All I'm saying is, you have to allow for things to happen to people, most of all to yourself. And you don't Rob, so what's the use?
Lesson MP3
Go Super to download full lesson MP3
The iTEP® test
Sponsored by
Discussion
This conversation is between two people who have recently broken up. Laura is trying to explain why she left Rob, and he is very upset. His voice is very loud, and irritated, while she tries to stay calm. I really liked this movie. It's a great story and a little different because a lot of it is John Cusak talking to the camera and the audience. He is a very believable actor. I highly recommend this movie and give it a 9 out of 10. Have you seen this movie and you want to share your opinion? Or maybe you have seen another movie recently you want to talk about? Well, come to the "Movie Madness" message board and tell us about it! From the front row, John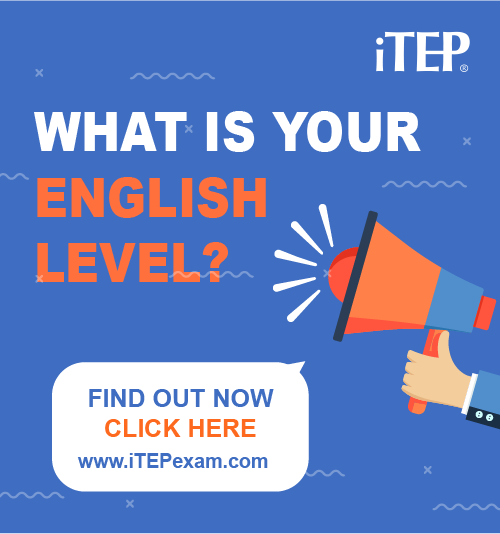 Post Ebaby! lessons on your blog: