Intro
1. Learn Vocabulary
- Learn some new vocabulary before you start the lesson.
Go Super to Listen
2. Read and Prepare
- Read the introduction and prepare to hear the audio.
Go Super to Listen
Even good people try to get away with certain things. They might speed when driving or borrow office supplies from work. It's not a big deal.

Well, at least until they get busted! Suddenly the police show up and give you a ticket. Or your boss yells at you when her pen falls out of your bag.

When you get busted, you get caught doing something you shouldn't be doing. However, if you're talking about an object that's busted, that means it's broken. When you get busted doing something bad, you can think of it as your reputation getting broken.

See who gets busted for what at the office today.
即使再老实人,也会尝试些"违规"的事。他们可能驾车超速,或从工作中"顺走"办公用品。这都不值一提。

当然,至少在他们被逮个正着之前!突然,警察出现,给你一个罚单。或者是当老板的笔从你的包里滑出来时,她对你又叫又嚷。

被逮个正着时,也就是你被逮到了正在做不该做的事。但是,如果你在谈论被逮住的对象,表示它东窗事发。当你在做坏事的时候被逮个正着,可以把它看成是你的信誉打破了。

看看今天办公室里谁因为什么事被逮了个正着。
3. Watch
- Watch the video without reading the dialog.
Dialog
1. Listen and Read
- Listen to the audio and read the dialog at the same time.
2. Study
- Read the dialog again to see how the vocab words are used.
Jason: Hey, Marni.

Marni: Yeah?

Jason: Can you think of a word that rhymes with "adorable"?

Marni: Hmm. "Horrible"?

Jason: It needs to be a little romantic.

Marni: What exactly are you working on over there?

Jason: It's that report for that uh…important client, you know, that we have.

Marni: Can I take a look at it?

Jason: It's just a rough draft. I don't think it's quite ready.

Marni: Let me see that.

Jason: No!

Marni: This is not a report for a client.

Jason: What are you talking about?

Marni: This is clearly a love letter to your wife, Devan. You are so busted.

Jason: No, this is totally for the client. We just have to woo them a little.

Marni: Uh-huh. Let me read that. "To my beautiful wife on our two-month-aversary…" Jason, you are so busted.

Jason: OK, you got me. I shouldn't be doing this at work. Can you forgive me?

Marni: Yes, I can forgive you. But I don't know if Devan will. I mean, that's a pretty bad poem.

Jason: It's that bad?

Marni: Yeah. Here, let me take a look at it. Yeah, this whole first verse has got to go. Hand me an eraser.

Jason: I don't have one. Check Dale's desk over there.

Marni: OK. What is all this? Man, Dale can be such a slob.

Jason: What is it?

Marni: Oh my gosh. These are love letters to Dale.

Jason: From whom?

Marni: From Vanessa.

Jason: Mason's girlfriend?

Marni: Yeah.

Jason: Busted.
Grammar Point
Go Super to learn "Imperative Form" from this lesson
Quizzes
Go Super to take Quiz
Lesson MP3
Go Super to download full lesson MP3
The iTEP® test
Sponsored by
Discussion
Go Super to Listen
Marni discovers that Jason is writing a love poem for his wife at work. He is totally busted. She's not angry with him, but she is worried that the poem is so bad that his wife might be. She decides to help him.

While looking for an eraser, Marni finds some love letters in Dale's desk drawer. They are from Mason's girlfriend, Vanessa! Jason and Marni don't know what to do with this terrible discovery. The just look at one another and say, "busted."

"Busted" can be an adjective, as in, "Vanessa got busted." It can also be a verb, as in, "Marni busted Jason writing poetry."
Have you ever gotten busted doing something you shouldn't be doing? Have you ever busted someone else?
Comments
Russian Federation
Sudan
China
Ukraine
Malaysia
Japan
United States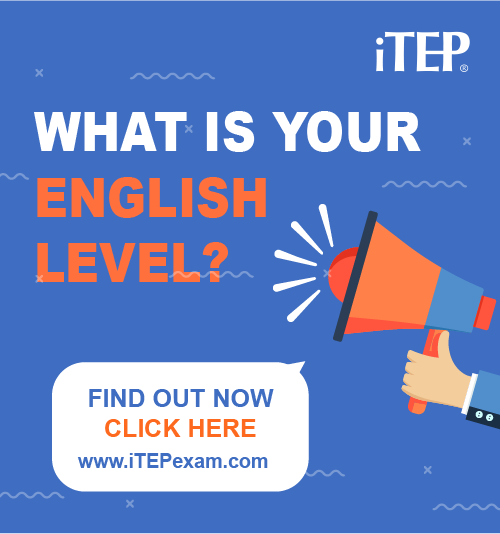 Post Ebaby! lessons on your blog: