View all entries from Hello blog >
April 21, 2012

Today, I feel like sharing about one of my favorite dish to you all, Some of you maybe have heard about Satay or Sate. It's a popular dish in Southeast Asian countries such as Indonesia, Malaysia, Singapore , Philippine, and Thailand. Some cultures believed that Satay ( specifically in Indonesia) have originated in Java or Sumatra. But some believed that it was a dish brought by Chinese or Arab Immigrants since Indonesia is predominantly Moslem.
Okay, the simple explanation for Sate is grilled meat on sticks or skewers. Commonly the meat is diced and marinated in spices such as turmeric, onion, coconut milk lemon grass, sweet ketchup and peanut sauce. Usually the meats to make Sate are ranging from Chicken, mutton, beef, prawn, fish, even snake and turtle, but i my country especially we use only mutton and chicken, even beef is uncommon to make it as Sate.
Ketupat (rice cake) or traditional food for Ied celebration, rice, cucumber are the best companion for serving Sate. Some of family can even make their own Sate. It usually serves for potluck, picnic, BBQ gathering, family gathering, etc. Or if we don't want to keep ourselves busy with kitchen, we still can find Sate from a stand near road, food store until the very expensive restaurant. I hope you guys not to forget to try Sate while visiting my country. Enjoy our traditional dish!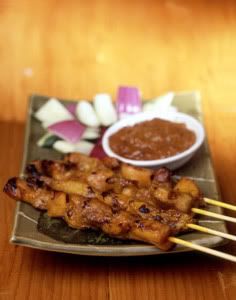 More entries: Do you have a dream? (60), 50 Questions That Can Help Free Your Mind (1), Writing English As A Second Language (9), Just listen, please! (6), yOung peOple and the fOOl (7), Sate / Satay (20), English, Baby! (44), Hello Friend (12)
View all entries from Hello blog >