Intro
1. Learn Vocabulary
- Learn some new vocabulary before you start the lesson.
2. Read and Prepare
- Read the introduction and prepare to hear the audio.
How long does it take to get over someone? A breakup can leave you upset for months or be forgotten about by the end of the day. A lot of factors contribute to the aftermath of a relationship, like how long it lasted and whose decision it was to end it.

Mason and Marni both got dumped recently and they're still bummed about it. Jason notices his friends are down and tries to help them come up with some ways to move on.
3. Watch
- Watch the video without reading the dialog.
Dialog
1. Listen and Read
- Listen to the audio and read the dialog at the same time.
2. Study
- Read the dialog again to see how the vocab words are used.
Jason: You guys don't look so excited to be alive today.

Mason: Yeah.

Marni: It's true.

Jason: Did I miss something? Is something…

Mason: No. It's the same old thing, man. Breakups.

Marni: Uh!

Jason: You too?

Marni: Yes!

Mason: Single life. I mean you…I know this is kinda weird, but you got over Amanda.

Jason: I did.

Mason: How'd that work?

Jason: Well, I didn't have Amanda ever so that helped. But, uh…

Marni: Yeah. That's different.

Mason: Believe me…

Jason: It was still hard.

Mason: ...you have no idea how much that helps.

Jason: Not having had her?

Mason: That woman, she lingers.

Jason: Yeah. I bet.

Marni: Oh man.

Jason: But I don't know, like…Let's see. It actually took a lot of work to get over her, or my desire for her, you know. Like I…I made out with some random people. Have you guys tried that at all?

Marni: No.

Mason: I got no prospects.

Jason: I don't really highly recommend it. I actually got a new dog.

Mason: Really?

Jason: Which ended up working out, although I do feel like it was a kind of reckless to get a new pet when I was so depressed.

Mason: Excellent for picking up chicks though, the dogs.

Jason: Yes.

Mason: I've played that card.

Jason: Totally. And I don't know. Sometimes you can use a breakup for, like, a big lifestyle shift that you've been thinking about having for a while, you know, if you've ever been like, "Maybe I should travel or, like, shave my head or…"

Marni: Yeah. Yeah.

Mason: Hmm.

Marni: Maybe.

Mason: Hmm.

Jason: None of those sound very good?

Marni: Hmm.

Jason: How long do you think it takes? Is it like….I've heard, like, one month for every year or, like, twice as long as the relationship, some people say.

Mason: I know. Wanna see my pictures of Amanda?

Jason: No. Oh yeah, dude.

Marni: No.

Jason: That's the…You gotta get those off your phone.

Mason: This is us at the beach.

Jason: OK. Not only should you not be showing these to me, but you can't…

Marni: Yeah. You gotta get rid of those.

Jason: You can't have pictures of your girlfriend around.

Marni: You need to burn them.

Jason: No, no.

Marni: They're on your phone. Maybe you need to burn your phone. I immediately destroyed all photos, all evidence.

Jason: We better take this for the rest of the day.

Marni: Yeah.
Grammar Point
Go Super to learn "Count and Noncount Nouns" from this lesson
Quizzes
Go Super to take Quiz
Lesson MP3
Go Super to download full lesson MP3
The iTEP® test
Sponsored by
Discussion
Mason and Marni seem sad, so Jason asks what's wrong. They're both feeling blue because of they each recently got out of a relationship.

Since Jason once had a crush on Amanda, Mason asks him how he got over her. Jason says it helped that he was never actually with her (although he came close). But he tried making out with a stranger and getting a new pet. He suggests that Mason and Marni might use this opportunity to make a big change in their lives.

But Marni and Mason are too depressed to reinvent themselves. Mason still carries photos of Amanda on his phone! It may be a while before he gets over her. Have you ever had to get over someone? How did you do it?
Comments
Canada
Saudi Arabia
Saudi Arabia
Saudi Arabia
Saudi Arabia
Colombia
Turkey
Thailand
United States
France
France
Austria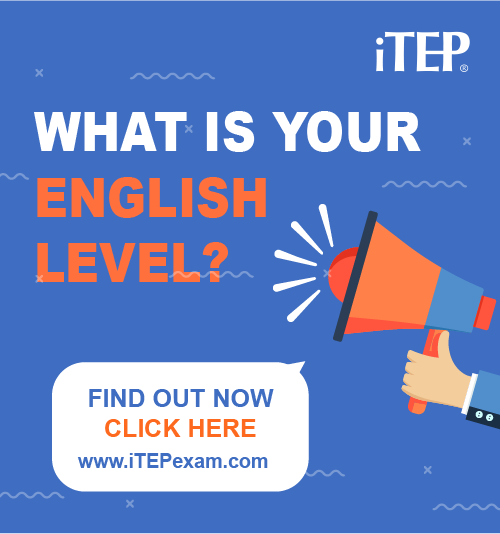 Post Ebaby! lessons on your blog: