Intro
1. Learn Vocabulary
- Learn some new vocabulary before you start the lesson.
Go Super to Listen
2. Read and Prepare
- Read the introduction and prepare to hear the audio.
Go Super to Listen
Do you know that feeling when you're walking along, and suddenly you trip over a rock or a crack in the sidewalk? You almost fall, but you catch yourself just in time. You turn to a friend and say, "That was a close call." What you mean is that you came close to falling, but you avoided it just in time. An accident almost occurred, but you managed to keep it from happening.

A close call isn't always about a physical action. Maybe you are planning a surprise party for one of your friends, and you're discussing it with another friend. Just then, the friend whose surprise party it is walks in. Luckily, it doesn't seem as if the friend heard anything about the party. When the friend leaves, you might say, "Phew! That was a close call."

Jeff is trapped under a rock, and Greta is going to try to help him. You may know what kind of close call Jeff experienced with his accident, but can you guess what other accident is about to be avoided? Find out in this rescue English lesson.
你正走在人行道上,突然被一块石头或是一条裂缝绊到,你知道这种感觉吗?你就要摔倒了,但你及时稳住了自己。你回头对朋友说:"真是侥幸啊!"你的意思是,你差点摔倒了,但你及时躲过了一劫。意外几乎就要发生,但你成功阻止了它。

侥幸并不总是指身体行动。假如你正在为某位朋友计划一个惊喜派对,并且你正在和另一位朋友进行讨论。就在这时,那位本应享受惊喜的朋友走了进来。幸运的是,这位朋友似乎并没有听到关于派对的任何事情。当这位朋友离开后,你可能会说:"呼!真是侥幸!"

杰夫被一块石头压住了,格里塔正要设法帮他。你也许知道杰夫在这次意外中侥幸脱离了什么样的危险,但你能想到其他要避开的意外吗?在本节以营救为话题的英语课上找出答案。
3. Watch
- Watch the video without reading the dialog.
Dialog
1. Listen and Read
- Listen to the audio and read the dialog at the same time.
2. Study
- Read the dialog again to see how the vocab words are used.
Greta: Jeff! Call out if you can hear me!

Jeff: Over here!

Greta: Oh my god. This is crazy. Are you OK?

Jeff: Yeah. I think I'm alright. I'm a little hungry. A little cold. I don't think anything's crushed, though.

Greta: God, that was a close call. You could have been seriously hurt.

Jeff: Yeah. Luckily I had my good luck charm on me.

Greta: Yeah? What's that? Is that a four-leaf clover, or a rabbit's foot or something?

Jeff: No. None of those.

Greta: Well? I came all the way out here, I think I deserve to know what your good luck charm is.

Jeff: Well, you remember that perfume ad you were in? From a few years back? Before I knew you, I loved that ad. I just loved the way it smelled, and you know, you looked great in it, so I figured I'd tear it out, carry it around with me. And next thing you know, I got my job, won that karaoke contest. And I've kept it ever since.

Greta: So it's a picture of me? That's a little weird. But I'm flattered.

Jeff: Don't be. That's why I decided you're the one I should call to come help me out.

Greta: That's the only reason?

Jeff: Yeah.

Greta: I don't know. I guess I was surprised that you called me because I thought that you might pick somebody who was closer to you to rescue you. But alright. Let's get this rock off of you.

Jeff: Alright! Thank you so much. Thank you. That feels great. I could kiss you. But I won't. You're my friend.

Greta: You won't.

Jeff: You're my co-worker.

Greta: Yeah. So good thing you're not gonna kiss me. That was a close call.

Jeff: That was a close call.
Grammar Point
Go Super to learn "Imperative Form" from this lesson
Quizzes
Go Super to take Quiz
Lesson MP3
Go Super to download full lesson MP3
The iTEP® test
Sponsored by
Discussion
Go Super to Listen
Greta arrives at the mountain to rescue Jeff, who is pinned under a rock. He's cold and hungry, but mostly OK. He's lucky that he didn't get hurt very badly. It was a close call.

Jeff explains that he thinks it may have been his good luck charm that saved him. It wasn't a traditional charm such as a four-leaf clover, though. It was a picture of Greta from a magazine advertisement. He says that that's why he called Greta to save him.

Finally, Greta pushes the rock off Jeff. He jumps up, and is very happy. He hugs Greta, and says that he feels as if he could kiss her. He doesn't, though. Greta agrees that it's a good thing he didn't kiss her. She says it was a close call.

Why do you think Jeff really called Greta? Do you think Greta actually wanted Jeff to kiss her? Can you remember a time when you had a close call of some kind?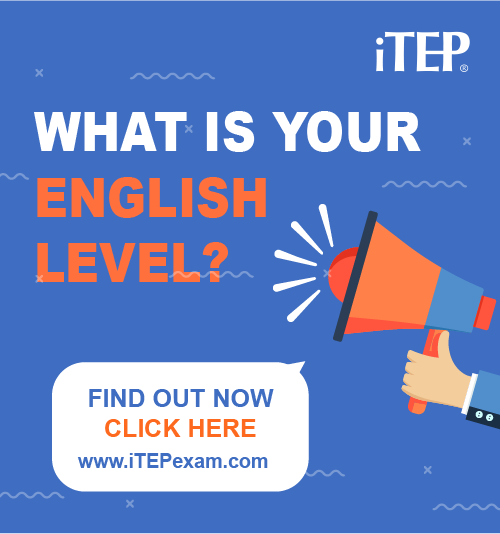 Post Ebaby! lessons on your blog: