Intro
1. Learn Vocabulary
- Learn some new vocabulary before you start the lesson.
2. Read and Prepare
- Read the introduction and prepare to hear the audio.
Plot: Regan MacNeil (Linda Blair) is a 12-year-old girl who becomes possessed by a demon. Her mother (Burstyn) tries several different treatments to cure her. When she can't, she asks for help from two priests (Miller and Sydow). They use an ancient religious method to get rid of the demon. Background: The Exorcist is based on a book by William Peter Blatty about a real-life exorcism. When this movie was released in 1973 it had massive effects on the country. There were reports of people getting sick, having to be taken to the hospital, heart attacks, and psychological trauma. Religious leader Billy Graham said he thought the devil was actually living inside the film. By today's standards of gore and violence it may not seem as scary, but it is still one of horror genre's all-time classics.
Clip: In this scene Regan's mother meets with Father Kerras to ask him if he can do an exorcism on her daughter. He explains that no one does that procedure anymore and she has to forcefully persuade him to help.
Dialog
1. Listen and Read
- Listen to the audio and read the dialog at the same time.
2. Study
- Read the dialog again to see how the vocab words are used.
Mom: I mean, what if a person came to, you know, that was a murderer or criminal of some kind, and they, and they wanted some kind of help. I mean, would you have to turn them in?
Father Kerras: Well if he came to me for spiritual advice I'd say, "no."
Mom: You wouldn't?
Father Kerras: No I wouldn't. But, I would try to convince him to turn himself in.
Mom: And, uh. How do you go about getting an exorcism?
Father Kerras: Beg your pardon?
Mom: If, uh. If a person was, you know, possessed by a demon or something. How do they get an exorcism?
Father Kerras: Well the first thing I'd have to get them a time machine and get them back to the 16th century.
Mom: I didn't get you.
Father Kerras: Well, it just doesn't happen anymore Miss MacNeil.
Mom: Oh yeah? Since when?
Father Kerras: Well, since we learned about mental illness, paranoia, schizophrenia. All those things they taught me at Harvard. Miss MacNeill, since the day I joined the Jesuits, I've never met one priest who has performed an exorcism. Not one.
Mom: Yeah, well it just so happens that somebody very close to me is probably possessed and needs an exorcist. Father Kerras, it's my little girl.
Father Kerras: Then that's all the more reason to forget about exorcism.
Mom: Why? I don't understand.
Father Kerras: To begin with, it can make things worse.
Mom: Oh, how?
Father Kerras: Secondly, the church before it approves an exorcism conducts an investigation to see if it's warranted. That takes time. Meanwhile your daughter….
Mom: You could do it yourself…
Father Kerras: No I couldn't. I need church approval and that's rarely given.
Mom: Could you see her?
Father Kerras: Yes I could. I could see her as a psychiatrist, but I can't see her…
Mom: Oh not a psychiatrist! She needs a priest! She's already seen every fucking psychiatrist in the world and they sent me to you. Now you're going to send me to them? Jesus Christ! Won't somebody help me?!
Father Kerras: Now see…you don't understand… your daughter…
Mom: Can you help her?! Just help her!
DISCUSSION
Regan's mother is very desperate and frustrated because every doctor she has seen won't help her daughter. They all have trouble believing that she is possessed even though she flies around the room, speaks in strange voices and vomits green liquid. Besides being a priest, Father Kerras is a psychiatrist. He wants to find a rational answer to her daughter's problems. But eventually he gives in.
_
Lesson MP3
Go Super to download full lesson MP3
The iTEP® test
Sponsored by
Discussion
The Exorcist is a truly horrifying movie because it seems so real. Yes, movies have gotten more gory in recent years, but often that seems fake and almost comical. Not only is it a simple horror movie, each character exhibits some kind of dramatic conflict that ties into the story. anyone wanting to watch some of the more recent possession films like Stigmata should see this first. I give it a 8 out of 10 Have you seen THE EXORCIST and you want to share your opinion? Or maybe you have seen another movie recently you want to talk about? Well, come to the "Movie Madness" message board and tell us about it! From the front row, Senior Movie Snob
Comments
Slovakia
China
Argentina
India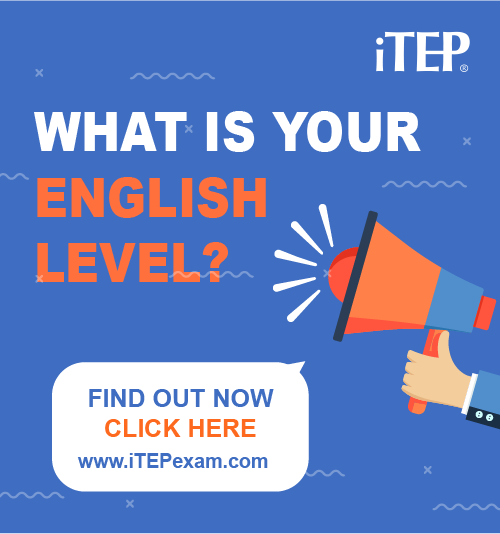 Post Ebaby! lessons on your blog: