Intro
1. Learn Vocabulary
- Learn some new vocabulary before you start the lesson.
2. Read and Prepare
- Read the introduction and prepare to hear the audio.
Shallow Hal may not have the best movie idea, but it has a very funny lead role played by Jack Black. Listen to Tanis and I talk about what we think the movie will be like.
Dialog
1. Listen and Read
- Listen to the audio and read the dialog at the same time.
2. Study
- Read the dialog again to see how the vocab words are used.
Nedra: You've seen High Fidelity right?
Tanis: Oh I'm so embarrassed. No, I think I'm the only person in America who has not seen High Fidelity.
Nedra: Oh man! It's with John Cusack and Jack Black. That's such a great movie.
Tanis: Yeah, I know. It looks really good, but I know who those guys are and they're really funny. I, I love John Cusack and Jack Black I've seen a couple times popping up here and there. He, he seems pretty cool too.
Nedra: Yeah, he's in his own band. It's called Tenacious D. I'd love to see them sometime.
Tanis: I didn't know he was in a band.
Nedra: Yeah, yeah, they, I think they play kind of funky songs.
Tanis: Oh well, that's cool. Well he's in that new movie now isn't he? That movie with, um, Gwyneth Paltrow. I can't remember the name of it right now.
Nedra: Shallow Hal?
Tanis: Oh yeah! That's it. That's it. It's that movie, um, I guess the guy is, he only, um, can see women for what they look like on the outside and then somehow, some kind of spell gets cast on him and he, um, sees the inner beauty of people and then he starts dating somebody who inside looks like Gwyneth Paltrow, but I guess on the outside is pretty portly.
Nedra: Yeah, yeah, the the ads are pretty funny, like, everyone's like, "Dude, she's not like what she thinks she is".
Tanis: Well I think, um, I don't know I'll probably go see it, but I think the premise is kind of lame.
Nedra: Yeah, but it looks like it's a hoot.
Tanis: Yeah, I know, well, I can tell, Nedra, that you have a thing for Jack Black.
Nedra: Naaah!
Quizzes
Go Super to take Quiz
Lesson MP3
Go Super to download full lesson MP3
The iTEP® test
Sponsored by
Discussion
Jack Black is a great comedian. I just love his facial expressions. They crack me up! In the movie, Shallow Hal, he falls in love with Gwyneth Paltrow. She wears a fat suit during the movie to make her look like she weighs over 300 lbs. Other actors have also wore fat suits like Julia Roberts in America's Sweethearts. I think there is a thrill watching skinny actresses look like bigger. Americans are so obsessed with weight that watching an beautiful actress look overweight makes them feel better.
Did you like the movie High Fidelity? Do you like Jack Black and want to see Shallow Hal? Post your opinion on the Movie Madness Message Board. I'm looking forward to talking to you!
Nedra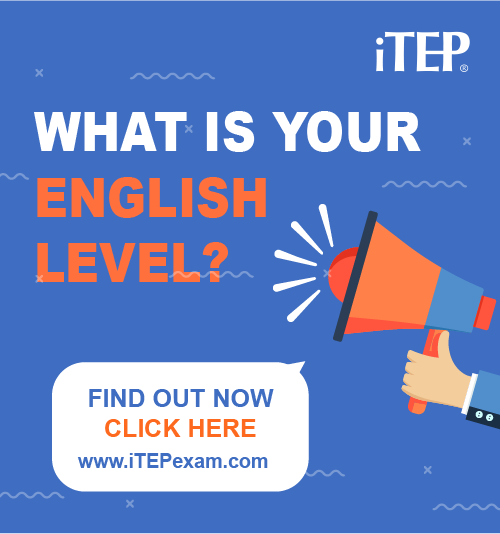 Post Ebaby! lessons on your blog: