Intro
1. Learn Vocabulary
- Learn some new vocabulary before you start the lesson.
2. Read and Prepare
- Read the introduction and prepare to hear the audio.
Music can be enjoyed in many, many ways. You can listen to it on the radio, you can play your own CD's, you can go to a concert, you can hear it in a movie, you can see a musical... and those are just a few of the options.
Last week Tanis went to a Broadway musical called "Saturday Night Fever." She had a fabulous time. Listen to her tell Miguel all about it.
Dialog
1. Listen and Read
- Listen to the audio and read the dialog at the same time.
2. Study
- Read the dialog again to see how the vocab words are used.
Miguel: Hey Tanis, what did you do last night?
Tanis: Oh, well it was my mom's birthday and so my dad suprised us all and got us tickets to go to "Saturday Night Fever." It's playing.
Miguel: To the movie?
Tanis: No! No. No! The, the musical they made a musical out of it and…
Miguel: Was John Travolta in it?
Tanis: No. But, it, it was, it was just like the movie except better. It was the best singing and dancing. It was so fun!
Miguel: That's cool. Did they have that that floor that lights up and everything?
Tanis: They had the floor that lights up and at certain points they had a mirror that was kind of at an angle to the floor. It was so cool. It was like the musical… any musical is just like that, but they were singing old Bee Gee's songs and all those 70's disco songs – in the musical.
Miguel: Wow. That sounds pretty neat. So the lyrics to the songs were like telling the story?
Tanis: I mean it wasn't an opera. There was plenty of talking in the middle, but when they
it came time to do a song… "How Deep is Your Love" you know? That was what…
Miguel: (Laughs) Right. Right.
Tanis: So it was like that. It was just so fun.
Miguel: So, wait wait wait. Did it sound just like the real song or was it slowed down
like…
Tanis: Just like the real song – totally fast. And you know, all the the guys going out on the town were singing, um, you know just some disco song about…
Miguel: That's what I always sing before I go out on the town! (Laughs)
Tanis: It just put all of those songs in a different context it was really fun!
Miguel: Cool.
Quizzes
Go Super to take Quiz
Lesson MP3
Go Super to download full lesson MP3
The iTEP® test
Sponsored by
Discussion
Tanis obviously enjoyed herself at the show. Her voice is full of excitement and energy. Just talking about the performance makes her want to jump out of her seat and dance.
Musicals can be a lot of fun. The performers are usually very talented and watching them sing and dance at the same time is awe inspiring. It can be like watching a music video performed live.
Have you ever seen a musical? Do you like them? Come to the MUSIC MIX Message Board and let us know!
Take it easy,
Migs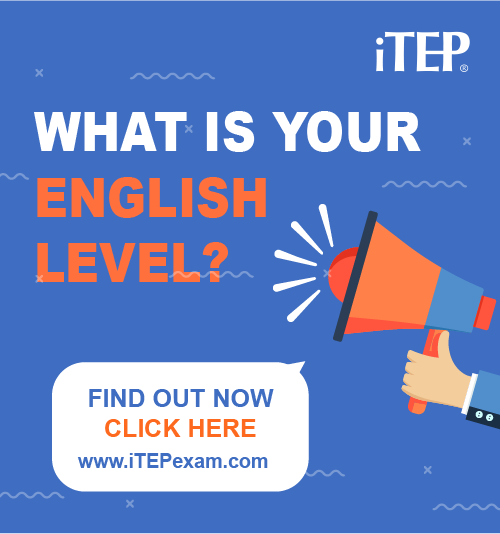 Post Ebaby! lessons on your blog: