Intro
1. Learn Vocabulary
- Learn some new vocabulary before you start the lesson.
2. Read and Prepare
- Read the introduction and prepare to hear the audio.
When rock 'n' roll started, it was young people's music. Teenagers went to see performers in their 20s. But the musicians and their fans have gotten older. Now people of all ages attend and perform at rock concerts.

Rod Stewart is a Scottish rock singer who became famous in the early '70s. He was successful not only because of his musical talent, but also his good looks and charm. Now, at age 62, he continues to perform to enthusiastic audiences. Many of his fans have listened to him for many years. Listen to Amanda tell Mason about how funny it can be to see grandparents act like teens at a rock concert.
Dialog
1. Listen and Read
- Listen to the audio and read the dialog at the same time.
2. Study
- Read the dialog again to see how the vocab words are used.
Amanda: I just caught Rod Stewart…

Mason: The concert?

Amanda: ...last weekend…

Mason: Here?

Amanda: Yes, live.

Mason: Oh, nice.

Amanda: Can I tell you that I felt so young? It was me and every retirement facility in the Portland-Vancouver area.

Mason: That makes a lot of sense.

Amanda: Not that that was a problem…

Mason: How old is he now, I mean…

Amanda: How old is he?

Mason: ...he is probably just as old as everyone in that audience, but he's just still rockin' it like he's, ya know, 29.

Amanda: He's probably our parents' age, if I had to guess, right?

Mason: Um hm.

Amanda: Maybe a little older. But it's interesting because he was still a sex symbol to everyone there, 30s, 60s, 70s.

Mason: Yeah, um hm.

Amanda: One part, this woman threw a huge brassiere...

Mason: Oh wow.

Amanda: DD's, maybe MM's…

Mason: Oh.

Amanda: ...so it was like double parachutes…

Mason: Did she hit him?

Amanda: ...as it dropped to the stage.

Mason: Did she hit him? That's what I want to know.

Amanda: No, but he was such a sport about it, he picked up the bra and it took four security men to push her up onto the stage.

Mason: Oh, wow!

Amanda: And he gave her a kiss!

Mason: Oh wow!

Amanda: That was nice. He could have gone a different route.

Mason: That is, uh, showmanship.

Amanda: Is that a visual for you?

Mason: That's just a commitment to the performance that I don't think…

Amanda: "Have I told you lately that I love you?"

Mason: ...I don't think the younger generation has that.

Amanda: No.
Quizzes
Go Super to take Quiz
Lesson MP3
Go Super to download full lesson MP3
The iTEP® test
Sponsored by
Discussion
When Amanda went to see Rod Stewart in concert, she was one of the youngest people there. Stewart and most of his fans are as old as Amanda's parents.

At the concert, Amanda saw a fan throw a large bra at Stewart. She compares it to "double parachutes" because it was so big. She jokes that the bra was sized MM, which would be absurdly large.

Stewart had the fan brought on stage so he could kiss her. Mason thinks that Stewart's reaction shows that he is a great performer. He thinks that Stewart is a better showman than many young musicians. Do you agree? Who do you think puts on the best show in music?

Amanda quotes a line from a song Rod Stewart sings ("Have I Told You Lately"). Are you familiar with Rod Stewart's music? Do you have a favorite song of his?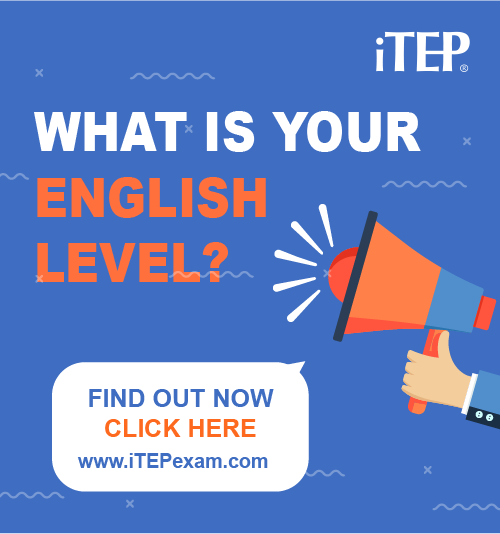 Post Ebaby! lessons on your blog: