Intro
1. Learn Vocabulary
- Learn some new vocabulary before you start the lesson.
2. Read and Prepare
- Read the introduction and prepare to hear the audio.
When people first fall in love, all they want to do is be together. Sometimes it takes their friends a while to get used to not hanging out all the time. It can be especially hard for a group of friends to adjust when two people from the group start dating each other.

Devan and Jason just started dating, but Mason doesn't seem to understand they might want to spend time alone together. Watch as he and his new friends Dale and Ella invade Jason and Devan's privacy. It's a little annoying, but in the end, just a silly little problem. Devan and Jason are just happy that they are finally healthy and finally together.
3. Watch
- Watch the video without reading the dialog.
Dialog
1. Listen and Read
- Listen to the audio and read the dialog at the same time.
2. Study
- Read the dialog again to see how the vocab words are used.
Jason: Oh, it's so nice spending time just with you.

Devan: I know. Everybody's been around lately and we haven't had time for just me and you together.

Jason: I know. It's great. We've got our favorite…

Mason: Alright guys, right this way, right this way, come on in.

Ella: Hello!

Dale: Hey. How you doin'?

Jason: Hey everyone.

Dale: Jason, I'm Dale.

Jason: Hi, Dale.

Dale: Nice to meet you.

Jason: Nice to meet you.

Ella: Ella.

Jason: Ella.

Ella: Nice to meet you.

Jason: OK.

Dale: Yeah. And you are?

Devan: I'm Devan.

Dale: Devan, nice to meet you. Yeah, it's nice to meet you.

Mason: These are my new friends, right? I just bumped into 'em on the street. They just popped up out of nowhere, I'm like, "You gotta meet my two kids here." So uh…

Ella: We're so excited.

Mason: Oh, dude, is there pizza?

Jason: Yeah…

Mason: Hold on. Let me, um…Could I just get in, I wanna…

Devan: We were kind of, um.

Ella: Awesome.

Mason: This is awesome. Did you want a slice, Dale?

Dale: No, I'm fine. Thank you. Thank you.

Mason: OK, cool.

Jason: Well, awesome. Thanks for stopping by, guys. It was great to meet your friends and, uh…

Mason: Do you have anything to drink?

Devan: There's a Kwik-E Mart right down the street.

Jason: I'll have a drink with you guys at that party that's coming up. Are you guys gonna be there?

Dale: Yeah.

Ella: Definitely.

Dale: Yeah, we'll be there.

Mason: Meet me at the bar downstairs. Yeah?

Jason: How about lunch tomorrow?

Mason: OK. OK, that will be good.

Dale: Nice meeting you guys!

Mason: Thanks for the pizza. It was good to see you.

Jason: Yeah, you too. It's alright. I think we dealt with that fairly well.

Devan: They ate all our pizza!

Jason: We were almost done. It's OK. We had enough. We don't need that much pizza.

Beren: Hey guys.

Jason: Hey. How's it going?

Beren: I heard you have some pizza?

Jason: Actually, we're fresh out.

Devan: Have you been back there this whole time?

Beren: Yes.
Grammar Point
Go Super to learn "Simple Future Tense" from this lesson
Quizzes
Go Super to take Quiz
Lesson MP3
Go Super to download full lesson MP3
The iTEP® test
Sponsored by
Discussion
Mason brings in his new friends and they take Devan and Jason's pizza! Jason tries to get them to scram, but they don't get it for a while. Plus, did you notice Ella grab Jason and Devan's arms? What was that about?

Once everyone leaves, Devan is upset. But Jason still thinks they can have a fun night. They were almost done with the pizza anyway, and they got rid of everyone pretty fast.

Then it turns out that Beren was behind the couch the whole time. What's she doing back there? Maybe it has to do with the fact that she's actually Beren's evil twin.

Is it hard for you to get alone time with your special someone? Or do you take too much couple time and make your friends lonely?
Comments
India
Tanzania, United Republic Of
Saudi Arabia
Austria
Saudi Arabia
Germany
Ukraine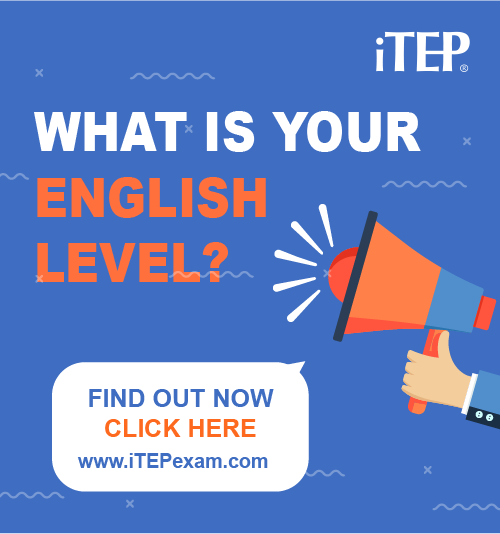 Post Ebaby! lessons on your blog: