Intro
1. Learn Vocabulary
- Learn some new vocabulary before you start the lesson.
Go Super to Listen
2. Read and Prepare
- Read the introduction and prepare to hear the audio.
Go Super to Listen
Ella and Dale may push papers in office jobs these days, but longtime fans of As the World Learns will remember that they used to be detectives. They used to solve mysteries, like who kidnapped Beren. So maybe they can help figure out what is going on with Devan's company. All the furniture has recently been packed up, but Devan says nothing is wrong.

See how Dale and Ella handle this situation and watch Ella use her psychic powers to figure out what's going on!
3. Watch
- Watch the video without reading the dialog.
Dialog
1. Listen and Read
- Listen to the audio and read the dialog at the same time.
2. Study
- Read the dialog again to see how the vocab words are used.
Dale: OK, Ella. Do you know…I was in the hallway and there was a copier, there was, just, a bunch of office equipment. I don't know what's going on, but everything is going.

Ella: Are you sure?

Dale: I am positive. I think everything is going. This is mine and this is staying here.

Ella: I think that's…Oh.

Dale: No, this is staying here.

Ella: OK.

Dale: Well…

Ella: You know what, I'm gonna start using some of our old detective stuff. I'm gonna feel it out. We're gonna figure this out, OK.

Dale: OK, figure it out.

Ella: Yeah.

Dale: I'm gonna take this one, too.

Ella: Oh, sorry.

Dale: Can you go figure it out?

Ella: OK.

Devan: Hey, Ella. How's it goin'?

Ella: Hey, Devan. What's happenin'?

Devan: Oh, you know, just taking some business notes.

Ella: Where's your chair?

Devan: I've decided to work on my posture, because the chair was making me slouch.

Ella: Where's your light bulb?

Devan: It's ah…

Ella: I mean, Dale was saying some funny things, but…

Devan: No. This is…

Ella: You're starting to worry me a little, here.

Devan: No, no, no. It's like a Feng Shui thing. Like, it's called minimalism. It's all the rage in Manhattan right now.

Ella: Your stuff is all over there. I mean, you haven't really got rid of it.

Devan: Well, it's, like, the whole "out of sight, out of mind" thing for inner peace, you know.

Ella: So, the company is OK?

Devan: Oh, yes. Yes. It's great. It's never been better, in fact.

Ella: Well, I shouldn't, like, look for jobs or anything like that.

Devan: No. Don't you dare. If she goes to work for Marni, I'll kill her. You are not abandoning me. We're in this together. I mean, everything is good.

Ella: So, we're rising.

Devan: We're rising together. Luckily, she doesn't know about the lawsuit. And the fact that if we lose the lawsuit, we're gonna go out of business.

Ella: So, it's OK if we lose this lawsuit to Marni?

Devan: What do you mean?

Ella: As in, the company is going under.

Devan: How did you know that? I mean…OK. It's true. If we don't win this lawsuit, we're ruined. But you cannot tell the others. Because if they know, they're gonna freak out and we need to be…

Ella: Just, stay calm.

Devan: ...level minded when we go into this thing. No freaking out. OK.

Ella: No freaking out.

Devan: Please don't tell the others.

Ella: OK.

Devan: But there's a lot riding on this lawsuit. So, if you know anyone that knows anything about, you know, like, law or suing or lawyers.

Ella: Winning.

Devan: Tell them to call me, OK?

Ella: OK.

Grammar Point
Go Super to learn "First Conditional" from this lesson
Quizzes
Go Super to take Quiz
Lesson MP3
Go Super to download full lesson MP3
The iTEP® test
Sponsored by
Discussion
Go Super to Listen
Dale is scared that the company is closing, so Ella goes to talk to their boss, Devan, to see what she can figure out. Ella used to be a detective, and now she can read minds, so she should be able to get some information.

Devan says the company is doing great, but Ella listens to her thoughts and discovers that she is going to sue Marni's company, and that if she doesn't win, the business will close.

Ella agrees to keep Devan's secret so that everyone will stay calm. You probably can't read minds, but have you ever discovered that someone is keeping a secret from you?
Comments
Philippines
Brazil
China
Canada
Brazil
United Arab Emirates
Ukraine
Saudi Arabia
Hong Kong
Mexico
China
China
Brazil
Bosnia and Herzegovina
Saudi Arabia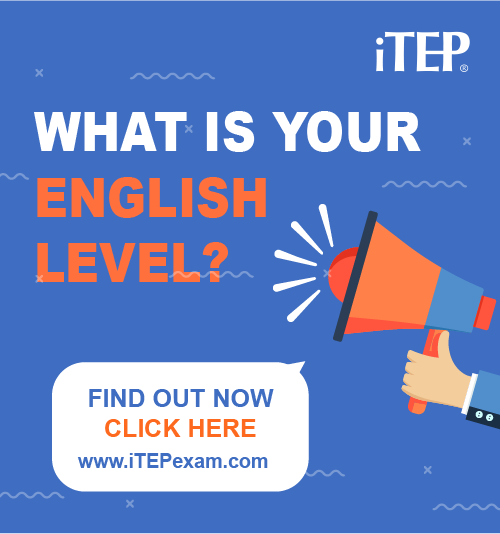 Post Ebaby! lessons on your blog: