Intro
1. Learn Vocabulary
- Learn some new vocabulary before you start the lesson.
Go Super to Listen
2. Read and Prepare
- Read the introduction and prepare to hear the audio.
Go Super to Listen
"No, no, Marie, honey. Listen, I can explain. It's not… Marie? I'll explain everything." A man in a suit walks down the street, and he's looking right at you. He's alone, but he's speaking in an emotional manner. With one hand he carries a briefcase, while he holds a coffee and gestures with the other hand. You look behind you, but you are the only one on the street. Who could this man be talking to?

In the past, we may have thought this man and others speaking by themselves in public were suffering from a mental illness. Now, because of hands free cell phone technology, we can't be sure. In this English lesson, learn how Mason and Greta feel about hands free cell phone technology.
"不,不,玛丽,亲爱的。听着,我可以解释。事情不是……玛丽?我可以解释一切。"街上走来一位身穿西服的男士,他正在看着你。他独自一人,但正在满含感情地讲话。他一手拎着公文包,另一只手拿着咖啡还在不停比划。你看了看身后,发现整条街上只有你一个人。他在和谁讲话?

在过去,我们可能会认为这个男人以及其他在公共场合自言自语的人都患有精神病。但现在,由于免提电话技术,我们就不能肯定了。那些在街上走着大声讲话的人,是在自言自语吗?还是在和我们说话?又或者是,他们正在用蓝牙耳机或带有麦克风的耳机,同另一个地点的某个人谈话?在本节英语课上,听听梅森和格里塔对免提电话技术的看法。
Dialog
1. Listen and Read
- Listen to the audio and read the dialog at the same time.
2. Study
- Read the dialog again to see how the vocab words are used.
Mason: I am really bummed out because my phone is kind of like, half-broken right now.

Greta: Oh, that's terrible. What's wrong with it?

Mason: Well, one of the microphones stopped working, so I can't use it if I just hold it up to my ear and talk on it. But I can use it if I have a headset connected to it.

Greta: Like a bluetooth, or an earpiece thing that you would wear?

Mason: Yeah.

Greta: Yeah, I think, I think the thing that weirds me out about people who wear their bluetooths all the time is that I'm never quite sure if they're talking to me or if they're talking to somebody on the phone. Like, they'll be standing in line in a coffee shop and they'll be talking very excitedly, and I'm don't know if I'm supposed to turn around and engage in the conversation or if they are on the phone. It's just, I can never read if they're interacting with just that person in their ear. They also look crazy when they walk down the street and they are just talking because something about having a hand up to your ear with a phone in it makes you look, you know, legitimate.

Mason: Yeah, there's definitely kind of a social signal that goes out on that. It's funny. I mean, it's really cool technology, right?

Greta: Sure.

Mason: But it's almost like our brains haven't evolved from the days when there were phone booths and phone conversations are private things that you have to be in a deliberate space and use very deliberate tools to do it. Now it's just anytime, anywhere, talking on my phone doing whatever I want.
Grammar Point
Go Super to learn "Present Progressive Tense" from this lesson
Quizzes
Go Super to take Quiz
Lesson MP3
Go Super to download full lesson MP3
The iTEP® test
Sponsored by
Discussion
Go Super to Listen
Mason's cell phone microphone is broken, and he must use hands free technology to talk on his cell phone.

Greta feels confused when she sees or hears someone talking on the phone using a bluetooth or headset. She doesn't know who that person is talking to! Mason thinks that in the past, a phone conversation was private, but now people talk on their phones whenever and wherever they want.

Do you use bluetooth technology or a headset? What do you think when you see people using this technology in public? Do you think that it is acceptable for people to have cell phone conversations anytime and anywhere?
Comments
Sudan
China
Poland
Mexico
Turkey
Iran, Islamic Republic Of
Ukraine
Poland
Germany
Iran, Islamic Republic Of
Syrian Arab Republic
Iran, Islamic Republic Of
Azerbaijan
Canada
China
China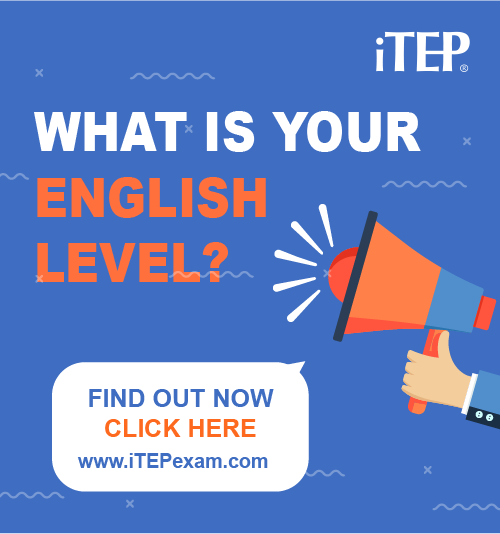 Post Ebaby! lessons on your blog: