December 21, 2010

Xmas is comming . Guessing that everybody is so excited for this Xmas . We wish for a nice Xmas night with lots of fun , happiness . Another New Year is approaching , too . It's about time to say goodbye to the Old Year , so many thoughts come in my mind . What I haven't done has to be left till next year . Everything is not alright but it's okay . I could accept it .
Hanoi is in winter , cold and rainy but we Hanoians love this kind of weather . Warmness comes from smile , laughters , sweet words from friends and lover .This Xmas is expected to be more interesting , warmer .
What I wanna say now is
AND
TO EVERYONE !!!!!!!!!!!!!!!!!
November 23, 2010

Looking for something belongs to the past , people could feel tired .Nothing could be found cuz all gone is not the same with the present . Just wondering how that person is and doing now . Just thinking back to a year ago when everything was so great , so exciting . Receiving a very smooth concern , my heart felt so warm , not like these days , very cold . Coldness comes from not the winter but the loneliness . Something is not necessary to think about , someone is not worthy to be hold . What did I do? It was not the fault of a wrong choice but the selfish I had . Something inside my mind is so ambiguous , hard to call the right name . Is that " Regret"? , I'm not so sure . Is that Hope to see that person again? I'm wondering what kind of person I were and I am . No matter how I tried to do better , even think better but it seems so hard for me to be a different one as I was .
Did we really understand each other? Did I make a big mistake ? I really don't know . Some months next , I will leave for another place where a person is waiting for me . I will have to forget all things of these days .
November 7, 2010

We did laughed and joked much . We did have a nice time when we were high school girls . We became best friends from when I couldn't remember . And it's not important to know the time when we started to be best friends , but that we'll be best friend forever .
We misundertood lots of time . But then we laughed and forgave each other .
After graduation from high school , we have less time to sit, go shopping or eat together . But whenever I cry or get in trouble , you're the only one who gives me shoulder to cry on . Whenever special holidays come , you're the first one I think of .
You're a gift which God brings me . YOU'RE MY BEST FRIEND.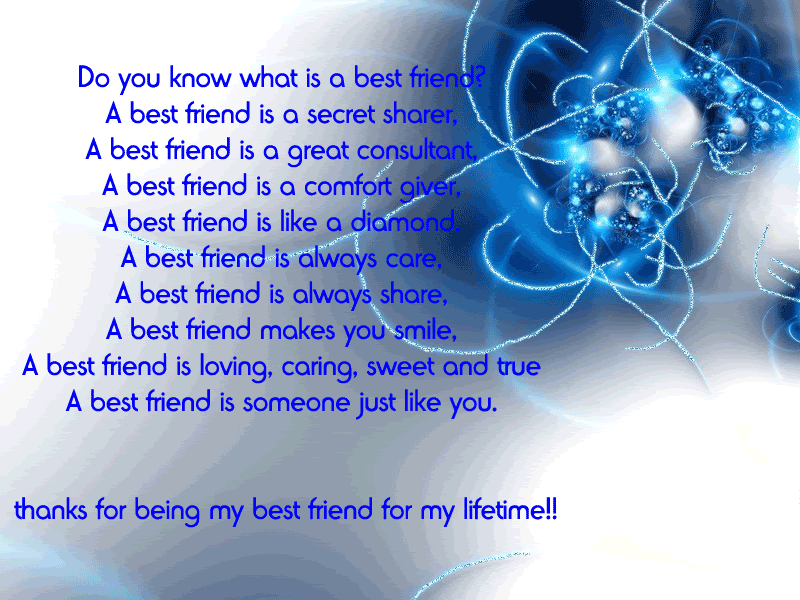 All I wanna say is " Thanks for being my best friend " .