November 14, 2007

Not too long ago, I've read a book that belongs to my brother, and he talked a lot about since he bought it.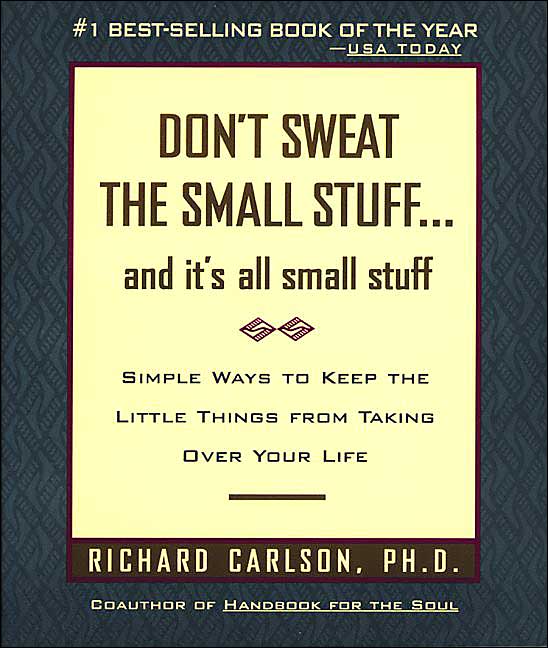 It's'' Don't Sweat the Small Stuff and it's All Small Stuff '' by Richard Carlson. This book is truly worth all the time on which it has been wasted, also it has been organized smartly in a way that allows the reader to start reading in any order he wishes, yet another good thing about this book is that once you start reading it, it's almost impossible to stop.
The author urges small daily changes and used examples for improvement from his own life to show how the advice works, he's suggesting various solutions on: how to take control over our emotions, how to manage to trash all the negative feelings that usually come after we fail by doing something or achieving a goal, they might somehow eventually take us down with depression, anger, worriment and dissatisfactions t. These solutions are entirely simple and trouble-free, they are the keys to our happiness which lie in our hands but , unfortunately, with most of us not seeing them , why? because of the large amount of stress that has been living for ages in our brains. Most of us see life as a battle field "have your enemies for lunch before they have you on dinner'', that's how some us has been badly and deceptively taught about life, Well, believe it or not, life is not that complicated, therefore, we need to live our lives with ease and learn from every mistake we make, moreover, we should smile bravely at our depression sources and think of them as life coaches, which they are.
Lastly, I'd like to add, that one thing that has really got to me, and somehow managed to change the way I think about life in general and that is when the writer goes ''

REMIND YOURSELF THAT WHEN YOU DIE, YOUR "IN BASKET" WON'T BE EMPTY''. I honestly deeply think that the whole world should read this chapter!
More entries: One really great book! (1)