Quote
1. Quote
- Listen to the quote and guess what the slang means.
"I think Ricki, my character, is very open-minded and a bit of a free spirit."
- Jennifer Lopez, talking about her character in the movie Gigli, which co-stars her fiance Ben Affleck.
Definition
1. Definition
- Study the definition.
open to new ideas; willing to consider new arguments, ideas and opinions; has a flexible mind; doesn't have prejudices; isn't stubborn; able to accept new/unconventional things
2. Use
- Learn how the slang is used.
You can use "open-minded" to describe anyone who is willing to accept new thoughts, ideas, opinions and experiences. A person who will try new things and be happy to do things s/he has never done before is "open-minded." In contrast, a person who doesn't like new ideas can be called "close-minded."
Examples
1. Examples
- Hear some example sentences.
""I met this really nice guy on the train today. He seemed a little weird at first, but once I started talking to him I realized that he was a truly open-minded, intelligent guy. He had a lot of interesting things to say.""
""It's really difficult to be around people who aren't open-minded. They always complain about things and argue with people.""
""Unfortunately, many of the politicians in the U.S. aren't open-minded at all. They have a hard time accepting new ideas. They just keep thinking the way they've always thought.""
""My mom is one of the most open-minded people I've ever met. She never has a negative reaction to anything. She really loves people and she's able to open her heart to all of them.""
Winners
1. Winners
- See who guessed the slang definition correctly.
An open-minded person is one who has a flexible mind, and is open to new ideas. You are open minded if you are tolerant and don't care about prejudices.
by Claudia (Bebedouro, Brazil)
i guess that: she is willing to consider new arguments, idea, opinions, etc.
by mimosa (Hong Kong, China)
Open minded is someone who isn't stubborn, who is opened to different oppinions and ideas, who is not discriminatory.
by Márcia (Cianorte, Brazil)
I really like this word because I am an "open-mind" person. It means without prejudices, having a spread point of view.
by HESLY (Sydney, Australia)
unconventional; discerning; does whatever she wants to without being trapped by rules or traditional thinking; modern
by janice (Hong Kong, China)
Liberal thinking; no strong likes/dislikes; capable of being free of prejudices
by Srikanth (Bangalore, India)
Open-minded is someone who doesn't mind doing different things; they have an open mind for trying new things and situations.
by Patricia (Curitiba, Brazil)
'open-minded' means not closed to new ideas. If someone is open-minded, that means he is willing to listen to or accept new ideas.
by lucia (Hong Kong, China)
consider new idea
by shamspour (Mashhad, Iran)
Free, unrestricted mind, very inspirational expression.
by Shayanne (Tianjin, China)
Open minded is a person who has good thoughts and is free for everything, is a person who tries to agree to any new ideas. Is a person who likes everything.
by Douglas (Bragança Paulista, Brazil)
Means that you have no stereotypes in your mind at the moment you want to analize something or someone, therefore you accept things easily.
by Andres (Guayaquil, Ecuador)
it means, being enlightened, being broad minded, being open to new events and developments.
by beyhan (Istanbul, Turkey)
it means: Willing to listen to, think about or accept different ideas
by Ali (Dezfoul, Iran)
She describes a person who doesn't take into account the social "well known" good behaviours, comments, or way of acting. Is a person with whom you can talk easily about any subject without feeling ashamed.
by gabriela (Bogotà, Colombia)
accept the other opinion or generous.
by thippawan (Bangkok, Thailand)
I guess "open-minded" means freedom in mind, not biased, ready to get new things.
by Khang Huynh (HCMC, Vietnam)
the term "open-minded" usually decribes someone who is able to accept new/unconventional things. he/she is willing to open his heart to accpet the changes around them.
by robenca (Kaohsiung, Taiwan)
Open-minded is a kind of character. It means the people who is outgoing and can accept the new things easily.
by Jackey (Guangzhou, China)
Open-minded means modern, someone which accept new ideas, new conduct, new trends, etc.
by Alessandro (Campinas, Brazil)
Open-minded means willing to consider new ideas and different ideas or the opinions of others. For example, She is open-minded on political issues.
by Sherry (ShenZhen, China)
"open-minded" means to be willing for new ideas or to have a flexible way of thinking.
by Dana (Dubai, UAE)
open-mind = a person without prejudice, a cool mind, anything bother this person
by ÁRTEMIS (Cuiabà, Brazil)
Open to other people's opinion, easy to accept, esp. new things.
by joann (Pelham, U.S.A.)
Easyly to communicate with and can accept the new/different ideas or opions of others
by Zhonghai (Beijing, China)
wouldn't mind others traditions & cultures… in other words a person who can adapt to people from different backgrounds without facing any major troubles.
by Mimi (Dhahran, Saudi Arabia)
being open and able to accept new ideas, minds, thoughts and situations, not to resist the change of the status
by Emrah (Izmir, Turkey)
I think being open-minded refers to a kind of attitude, to accept new ideas and changes readily and actively.
by Fresh (Jinzhou, China)
Acceptance a new idea from someone or listen that.
by Pammy (Bangkok, Thailand)
I think 'open-minded' is someone who is open to new ideas and accept criticism.
by Caroline (Guarapuava, Brazil)
Willing to consider and accept new ideas or opinions.
by Pat (Chaingmai, Thailand)
It describes a person who can accept any idea and not restricted by his/her own knowledge or background.
by Lai (HongKong, PRC)
I think Jennifer Lopez means that Ricki is willing to consider new ideas.
by hEhe (Hong Kong, China)
open minded means: liberal or broad minded
by DeSiDeRaTa (Elfaiha, Kuwait)
I think open-minded means accepting new ideas that are different than ours.
by Farah (Mishref, Kuwait)
To be willing to learn about other people's thoughts, ideas and tend to accept those which are good, logical and useful.
by Bulent (Istanbul, Turkey)
It means when a person likes to improve in different things and change his/her ideas if it's necessary.
by Beatriz (Bs.As, Argentina)
I think that means the thought is open, easy to accept the new things, not conservative.
by pf (sz, China)
open-minded means think about things freely, don't care details, don't mind too much, easy to treat with, always be willing to accept new ideas
by Mary (DongGuan, China)
Having or showing receptiveness to new and different ideas or the opinions of others.
by Emily (Qinhuangdao, China)
open to new ideas, opinions, points of view, suggestions. Opposite of "narrow minded".
by marcelo (Buenos Aires, Argentina)
I guess it means "someone easily accept new ideas, different views of others".
by cui zhi (Beijing, China)
I think that someone is "open-minded" when they are willing to listen to, think about or accept different ideas.
by Ricardo (Goiania, Brazil)
Open-minded is the one who's free to new ideas accepting 'em naturally.
by Tero (Brazil)
I guess "open-minded" means someone has a good character to understand and accept the new/fresh things.
by yana (Zhejiang, China)
means someone is fair and reasonable in his thinking, he is open to new ideas or ways of looking at things or problems.
by yi (Nanjing, China)
it means free spirits,not so conservative
by yan (Tianjin, China)
describe someone who would like to accept and share new ideas or opinions.
by shuihe (Shanghai, China)
in my opionion, open-minded is means a person who are not conservation and accept new things quikly, anyway, fashion
by lv (Peking, China)
Open-minded means she knows much and can accept new things much easier than those closed-minded people, and she also can understand or accept different thoughts from different areas or even different countries. Her mind is up to date.
by kelly (Dongyang, China)
maybe it means a person who wants do everything in his own way, having ideas of his own, and seldom cares about others' feelings.
by coral (Mudanjiang, China)
Having a particular attitude or believing that a particular thing is important. Ex: politically-minded students
by Edmundo (Monterrey, Mexico)
someone who has an open mind about something, or his life mind is very different from lots of persons.
by lotus (Nanjing, China)
very clever
by tawfik (Benghazi, Libya)
The iTEP® test
Sponsored by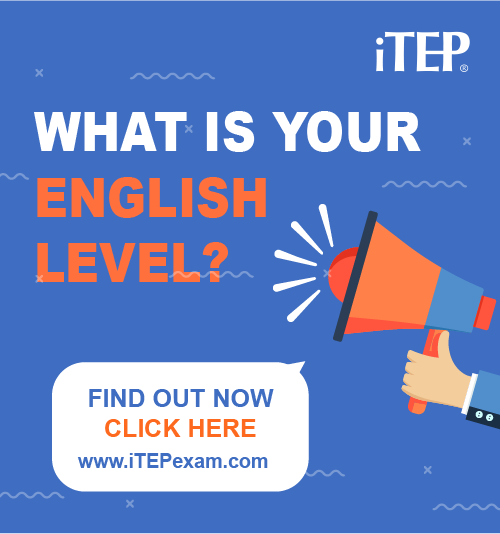 Post Ebaby! lessons on your blog: