Quote
1. Quote
- Listen to the quote and guess what the slang means.
"While we were shooting the movie a lot of the Disney studio executives were worried…some of the executives were starting to freak out."
- Johnny Depp, in an interview about his movie, Pirates of the Caribbean, to Jan Janssen of handbag.com.
Definition
1. Definition
- Study the definition.
act in an unusual way; act crazy or emotional; panic
2. Use
- Learn how the slang is used.
I have to admit that last night I totally freaked out because I thought I'd lost a check. I was at home and I wanted to go and deposit my check, but I couldn't find it anywhere! I knew that it was either at home or at work, but I just kept on searching and searching at home for it. I totally freaked out! I was even trying to hang out with my brother and every time he left the room, I would start looking again. Eventually, I just went to bed. Freaking out is not fun!
-Steph
PS: My check was sitting at my desk at work. It doesn't pay to freak out.
Examples
1. Examples
- Hear some example sentences.
"I started to freak out after I crashed my car, but my brother made me feel better."
"I freak out when my mom surprises me at work!"
Winners
1. Winners
- See who guessed the slang definition correctly.
"freak out" means to behave in a strange way; to become greatly excited or anxius becouse of something.
by Dana (Dubai, UAE)
emotional, short statement when you can't understand in rationally and normal way anymore, when you start to get crazy or to act in a strange way, because of the excitment or the confusion.
by Valeria (Tempio Pausania, Italia)
Freak out means gone wild or lose your nerve.
by Kaewta (Bangkok, Thailand)
It means being mad and out of control emotionally or physically.
by Xu (Hangzhou, China)
"Freak out" means feel disappointed and frustrated.
by Linda (Mianyang, China)
Freak out means to be scared.I guess in US u can use this expression to exress u were done on that situation.
by Krisztina (Szeged, Hungary)
To freak out is to panic.
by Jaya (Manila, Philippines)
means get somebody worried and disturbed or make him feel lose in his mind.
by Shirley (hangzhou, China)
surprise at;I am so homesick and I want to go home on the Country's Day maybe my mother will be freaked out then.
by XIAO (Î人, china)
to be tense because of something one can't control or predict; on the edge of going crazy
by Elaine (Taipei, Taiwan)
1. to lose control of one`s emotional state, to become very upset and irrational
2. to lose grasp of reality temporarily due to drugs.
by mahtab (Tehran, Iran)
"to freak out" means to be frightened
by Yi-ping (Yilan, Taiwan)
freak out means horror
by Ali (qatif, saudi arabia)
to be scare
by Jackeline (bogota, colombia)
it means to scare or shock somebody.
by Emily (Qinhuangdao, China)
When people freak out, they get extremely emotional and/or sometimes completely neurotic!
by Shrley (Sao Paulo, Brazil)
disorientation
by Niramit (Bangkok, Thailand)
"Freak out" means to be deeply attracted by something, I think.
by Jessica (Kunshan, China)
lost/cause to lose emotional control (due to fear,anger, shock…), become/cause to become astonished. I was freaked out when the old lady cussed at me.
by Sherry (ShenZhen, China)
The iTEP® test
Sponsored by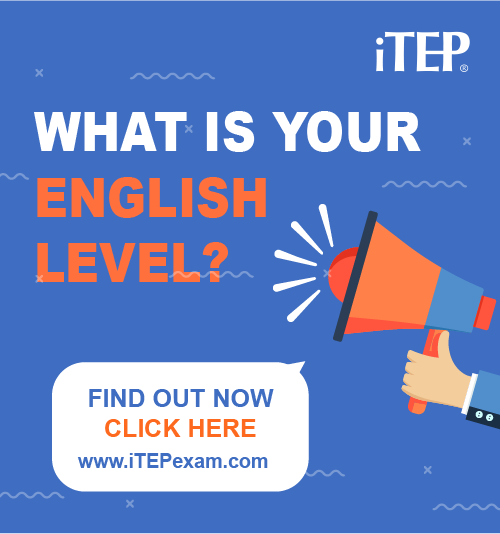 Post Ebaby! lessons on your blog: