Intro
1. Learn Vocabulary
- Learn some new vocabulary before you start the lesson.
Go Super to Listen
2. Read and Prepare
- Read the introduction and prepare to hear the audio.
Go Super to Listen
People always like their own ideas the best. That's why the best way to get someone to do something is to plant the seed.

In gardening, when you plant a seed, it sits in the soil for a while and then grows into a plant. Planting a seed in a person's mind is no different. When you plant the seed, you don't argue or directly address what you want. You just give subtle suggestions and hints. Then you wait. After a while, you'll get what you want and the person who gives it to you will think the idea was theirs!

For example, if you want to work at a particular clothing store, you could dress nicely and go there often and compliment the store and the employees. You could talk to them about how it must be a fun place to work. You've planted the seed. Then, when they need to hire someone, they will ask you, without you ever having to apply.

Devan hopes her boyfriend Jason will ask her to marry him. Her friends tell her she needs to plant the seed. See what happens as she tries to show him what she wants.
人们总喜欢自己的主意是最棒的。这就是为什么让某人做某事的最佳途径是"播种"。
在园林中,当你播下一颗种子,种子埋藏在土壤中一段时间后,会生长成一株植物。在某人的头脑里"播种"也是同样道理。当你"播种"的时候,无需争论或直接表明你的要求,你只需提供一些微妙的建议和提示,接下来就是等待。一段时间过后,你将获得想要的效果,而被"播种"的人会认为你的想法就是他们的想法!
例如,你想在一家特别的服装店工作,你可以身着漂亮服装经常去那家店并称赞那家店和他们的员工。你可以和他们讨论服装店如何成为一个有趣的工作场所。至此,你已经完成了"播种"工作。然后,当他们需要雇佣新员工时,即便你从未申请过该工作,他们也会询问你的意愿。
德凡希望她的男友詹森向她求婚。她的朋友告诉她,她需要"播种"。让我们来看看,当德凡试着告诉詹森自己想要什么时,将发生什么情况。
3. Watch
- Watch the video without reading the dialog.
Dialog
1. Listen and Read
- Listen to the audio and read the dialog at the same time.
2. Study
- Read the dialog again to see how the vocab words are used.
| | | | | |
| --- | --- | --- | --- | --- |
| | | | Wife | Husband |
Marni: So, how are things going with Jason? Have you been able to plant the seed about how you want to get married?

Devan: Well, I tried dropping a few hints, but I haven't really been able to get the point across.

Jason: I hate doing taxes.

Devan: Me too. You know, if we were married, we'd be able to file our taxes together. Wouldn't that be easier?

Jason: Yeah, I never thought of that. You know what else would be cool?

Devan: What?

Jason: If we were pirates. I bet pirates don't have to file taxes at all!

Devan: Yeah, probably not.

Jason: Argh!

Marni: Hmm, that's not so good. What else have you tried?

Devan: Well, I thought maybe if we spent some time with some other married couples, he'd be able to see how great marriage really is. But that didn't really work either.

Wife: Are you sure you want to drink that beer? You're going to get fat if you keep drinking all that beer. Don't you shrug at me! That's it. You're sleeping on the couch tonight.

Husband: Don't ever get married.

Jason: Yeah.

Marni: Yikes.

Devan: I know. Then yesterday, I tried to get him to look at engagement rings with me, but he just didn't get it.

Devan: Oh, look, jewelry store! Let's look in here.

Jason: OK.

Devan: Look at that ring, isn't that so pretty?

Jason: Um, yeah, it's good.

Devan: Oh, I really like that one too.

Jason: They're kind of shiny, you know?

Devan: Shiny?

Jason: Yeah. I guess I'm not a big jewelry guy. I'm glad you don't care about that stuff, either.
Quizzes
Go Super to take Quiz
Lesson MP3
Go Super to download full lesson MP3
The iTEP® test
Sponsored by
Discussion
Go Super to Listen
Marni and Devan are back at the salon. This time, there's no business meeting. They're talking about romance. Devan hopes to make her boyfriend understand that she wants to get married.

She tells Marni that she tried suggesting that taxes would be easier if they were married. Devan introduced her boyfriend to another married couple, but they seemed unhappy so it didn't help her case. Finally, she stopped to look at rings in a shop window. After they left, Jason came back and looked in the window. Maybe he understands.

How do usually you get what you want? Do you plant the seed or ask directly?
Comments
Japan
China
China
Egypt
Viet Nam
China
Jordan
Viet Nam
Egypt
China
Egypt
Egypt
Iraq
Ukraine
Sudan
Germany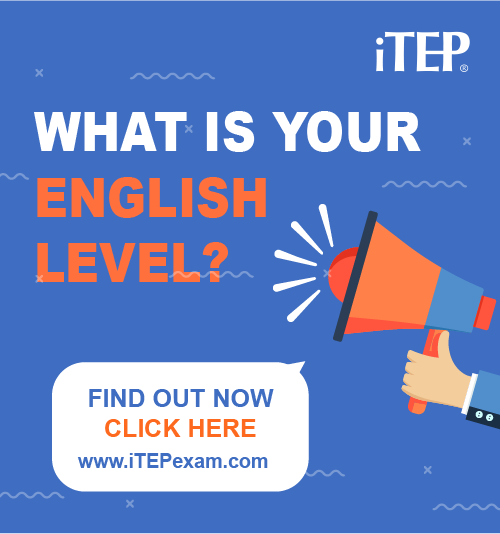 Post Ebaby! lessons on your blog: