Intro
1. Learn Vocabulary
- Learn some new vocabulary before you start the lesson.
Go Super to Listen
2. Read and Prepare
- Read the introduction and prepare to hear the audio.
Go Super to Listen
Anyone who is learning a language knows that you're not always in control of what you say. Sometimes things just don't come out the way you want them to…or when you want them to.

If there's something on your mind, it usually finds a way to your lips before too long. It's hard for people to avoid talking about what they're feeling, especially around people they care about. When you say something you didn't mean to say right then, you can say, "It just slipped out."

Jason has been planning to ask his girlfriend Devan to marry him. He recently missed a very romantic opportunity to propose. See what happens when they're leaving work one day. You never know what will slip out in casual conversation.
任何正在学习语言的人都知道,有时我们无法控制自己在说什么。有时候我们说出来的话并非心里所想,或者这些话说得不合时宜。
如果心里有一些想法,人们大都会娓娓道来、滔滔不绝。对于普通人来说,避免谈论心里所想所感十分困难,尤其是面对自己在乎的人或事。当你说出并非己愿的话时,可以解释为"只是口误"。
詹森已经计划向他的女友徳凡求婚。但是最近错过了一个浪漫的求婚机会。请看他们某天下班时发生的情况。你永远无法知道闲谈中会出现什么口误。
3. Watch
- Watch the video without reading the dialog.
Dialog
1. Listen and Read
- Listen to the audio and read the dialog at the same time.
2. Study
- Read the dialog again to see how the vocab words are used.
Jason: Can I please just use the bathroom on this floor?

Devan: I think the other girls will know if you do.

Jason: How will they know?

Devan: They'll just know.

Jason: Come on.

Devan: Alright. Fine. Make it quick though. Hi, mom. Yeah, sorry I didn't call you back the other night, I had a girls' night out. Yeah, It was great. It almost didn't happen though because I forgot my ID at home, but then Jason, being a total sweetheart, ran all the way across town to bring it to me. I know. Isn't that so sweet? He ran on foot. Yeah. No honestly, he's totally amazing. He's by far the best boyfriend I've ever had. I just can't even imagine my life without him. Yeah, he's really great. We're actually about to go home right now though, so can give you call a little later? OK. I love you. Bye. Whoa. How long have you been standing there? I love you.

Jason: Will you marry me?

Devan: What? What? Are you serious right now?

Jason: I am totally serious. I didn't mean to ask you like this. It just slipped out.

Devan: How does something like that just slip out?

Jason: I guess, I've been looking for the right time to say it and it just came out accidentally, but I'm totally serious.

Devan: What? After all these years of dating, this is how you pop the question? This is how you propose to me? No. I want a proper proposal. Get down on your knee.

Jason: Devan…

Devan: Yes! Yes, I will!

Jason: I thought you wanted the proposal.

Devan: I'm sorry. It just slipped out.
Grammar Point
Go Super to learn "Present Perfect Progressive" from this lesson
Quizzes
Go Super to take Quiz
Lesson MP3
Go Super to download full lesson MP3
The iTEP® test
Sponsored by
Discussion
Go Super to Listen
While Jason is the restroom, Devan gets a call from her mother. She tells her how much she loves Jason. He overhears her, walks out and kisses her. Then he says it, "Will you marry me?"

Both of them are surprised. Jason says he didn't mean to propose just then. He says it just slipped out. But he has a ring to prove he is serious.

Devan says she wants a traditional proposal. She asks Jason to get on one knee. He does, but she is too excited to let him finish. "Yes," she says. She will marry him.

Have you ever let something slip out or said something accidentally? How did it go?
Watch all the episodes leading up to this proposal here.
Comments
Iran, Islamic Republic Of
Bangladesh
Iran, Islamic Republic Of
Sudan
Indonesia
Turkey
Yemen
Sudan
China
Viet Nam
Palestinian Territory, Occupied
China
Tunisia
China
Syrian Arab Republic
Colombia
Pakistan
Yemen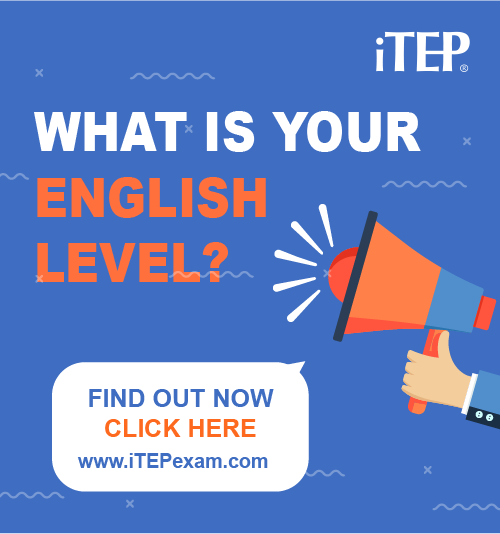 Post Ebaby! lessons on your blog: