Intro
1. Learn Vocabulary
- Learn some new vocabulary before you start the lesson.
Go Super to Listen
2. Read and Prepare
- Read the introduction and prepare to hear the audio.
Go Super to Listen
Giving someone bad news can be almost as bad as receiving it. You have to watch someone react in horror and you can't help but feel guilty, even if the news had nothing to do with you.

When you have to deliver bad news to someone, you of course want to do it as nicely as possible. You don't want to say something shocking with no warning. That will make the news hurt even more. You have to break it to them gently. When you break it to someone, you tell them bad news in a kind way.

If your mechanic determines your car can't be fixed, he might break it to you by first reminding you that it was a great car for many years. If you are quitting your job, you might break it your boss by telling her how much you've enjoyed working for her.

Mason's friends discovered some bad news about his girlfriend, and they are about to break it to him. See how it goes.
告诉别人坏消息几乎跟听到坏消息一样让人伤心。尽管坏消息跟你没有关系,但是你不得不面对对方惊恐的表情,而且忍不住地感到内疚。
当你不得不告诉别人坏消息的时候,你肯定会想尽可能地友好一点。你不想在没有任何预兆的情况下讲述让人震惊的事情。这样会使坏消息对人的伤害更深。你必须委婉地表述。当你委婉地告诉某人坏消息时,是指你选择一种友好的方式告诉他们。
如果机修工说你的汽车无法修理,首先,他可能会委婉地提醒你,这是一部使用了很多年的好车。如果你想辞职,你可能委婉地对老板说你多么喜欢在这儿工作。
梅森的朋友们发现有关他女朋友的坏消息,他们想要委婉地告诉他。听听他们怎么说。
3. Watch
- Watch the video without reading the dialog.
Dialog
1. Listen and Read
- Listen to the audio and read the dialog at the same time.
2. Study
- Read the dialog again to see how the vocab words are used.
Marni: OK, I'm sure you guys know why I asked you here for a drink.

Jason: Actually, no.

Jeff: I do, but the last thing I need right now is another office romance. I think none of us need that.

Marni: What? What are you talking about?

Jeff: We're not here on some kind of double date or something?

Marni: I hate to break it to you, but the world does not revolve around you.

Jeff: Yeah, right. Anyway, what is this about then?

Devan: We're here to talk about Mason. Someone needs to break it to him about Vanessa going behind his back with Dale.

Jeff: Vanessa's been cheating on Mason with Dale? Wow. I can't believe that. Poor Mason.

Jason: We did find some love letters from her to Dale in his desk.

Devan: I caught them fooling around outside the office.

Jeff: What?

Devan: And we think that since you guys are such good friends now, that you two should be the ones to break it to him.

Jason: You want us to tell Mason that his girlfriend is cheating on him? I mean, is that really our place?

Jeff: Why do we have to break it to him now? Can't we just wait and see what happens?

Marni: No.

Jeff: What?

Jason: Why not?

Devan: Jason, he needs to know the truth.

Marni: And…

Mason: Hi, guys.

Marni: ...he's here.

Jason: Hey, Mason. Yeah…

Mason: Whoa.

Marni: We're just going. Sit down and catch up. We'll see you later.

Mason: Where are they going?

Jeff: Have a seat, man.

Jason: Have a seat.

Mason: What's up?

Jason: We have something to tell you.

Devan: Do you think they're really gonna tell him?

Marni: I don't know.

Mason: No!

Marni: Looks like they broke it to him.

Devan: Yup.
Grammar Point
Go Super to learn "Present Perfect Progressive" from this lesson
Quizzes
Go Super to take Quiz
Lesson MP3
Go Super to download full lesson MP3
The iTEP® test
Sponsored by
Discussion
Go Super to Listen
Devan and Marni have asked Jason and Jeff to meet them at a cafe. They want the guys to tell Mason that his girlfriend is cheating on him.

Jason doesn't think it's his place to break it to him, but before he can argue, Mason is there at the table. Jason tells him to have a seat, and gives him the bad news. Mason can't believe it. He breaks his mop and screams out.

Have you ever had to break bad news to someone? How did you do it?
Comments
Saudi Arabia
China
Russian Federation
Iran, Islamic Republic Of
Iran, Islamic Republic Of
Brazil
Iran, Islamic Republic Of
Egypt
China
Argentina
Saudi Arabia
China
United States
Pakistan
Brazil
Belarus
Argentina
China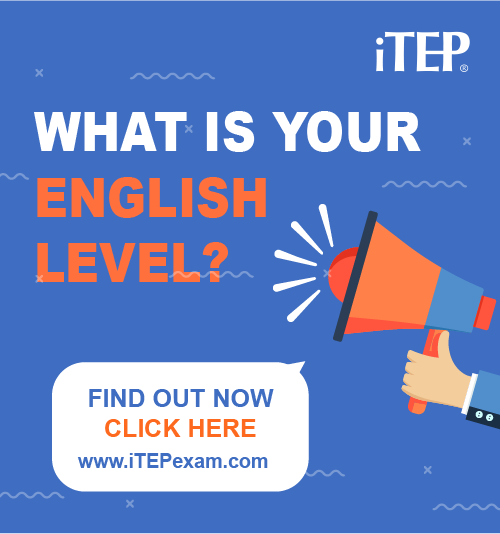 Post Ebaby! lessons on your blog: