Intro
1. Learn Vocabulary
- Learn some new vocabulary before you start the lesson.
Go Super to Listen
2. Read and Prepare
- Read the introduction and prepare to hear the audio.
Go Super to Listen
All your friends are talking about the hottest new band. Usually, you know what's going on in the music scene, but you've been really busy with work lately and you haven't been paying attention to what's new. You have no idea who your friends are talking about. You must be really out of the loop.

Or let's say that you and your family are planning a vacation. You know what cities you're going to visit, what hotel you're going to stay at, and all the dates of travel. Your brother comes in and asks, "Where are we going again?" "Haven't you been paying attention?" you say. "You're so out of the loop!"

We can think of "the loop" as the current information that most people are up on. If you're out of the loop, then you simply don't know what's going on.

Greta's about to find out that she's been out of the loop about something that affects her in a big way. Discover what it is in this gossip English lesson.
你的朋友们都在讨论时下最热门的新乐队。平时,你也会关注音乐界的动向,但最近实在因为忙于工作,而没有时间留意那些最新动态。你不知道朋友们在谈论谁。你肯定会被认为"两耳不闻窗外事"。

或者假设,你和你的家人正在计划度假。你知道你们要去参观的城市、居住的酒店,以及所有的行程日期。你弟弟跑来问你:"我们这次又要去哪儿?"你说:"你没注意听吗?你可真是'两耳不闻窗外事'!"

我们可以把"窗外事"(loop) 理解为当前大多数人都知晓的信息。如果你"两耳不闻窗外事",你就不会知道正在发生什么。

格里塔马上会发现,她对某些对自己有重大影响的事毫不知情。在本节以闲谈为话题的英语课上,看看到底发生了什么。
3. Watch
- Watch the video without reading the dialog.
Dialog
1. Listen and Read
- Listen to the audio and read the dialog at the same time.
2. Study
- Read the dialog again to see how the vocab words are used.
Jeff: Is he still out there?

Mason: Still there!

Jeff: Wow. He doesn't even take a break to go to the bathroom! Can you see what that sign says?

Mason: Jeez, if I squint, I can tell…It looks like one side says, "Penguin eyelashes are not yours to pluck." The other side says, "SlipperSoft hates penguins."

Jeff: I wonder what they're protesting in front of our building?

Mason: Oh, wait here comes Greta. Looks like he's gonna go talk to her. He probably wants an autograph. No, wait, actually, it seems like he's yelling at her! And now she's running away from him! Wow, what the heck's going on?

Greta: Why are you guys just standing there? Didn't you see that crazed person harassing me? Somebody call the police!

Jeff: What was he saying to you?

Greta: I don't know! Something about penguins and eyelashes and sensitive tear ducts… What does that have to do with me?

Lily: You don't know?

Greta: No!

Mason: You do?

Lily: It's only all over the Internet. It's the top story on Squawker and Undercarriage.com, and everyone's tweeting about it.

Greta: About what?

Lily: That SlipperSoft, "The slippers so soft that they feel like clouds," they use penguin eyelashes for the special lining.

Mason: What does that have to do with us? I didn't even know penguins had eyelashes!

Lily: Well, Greta…

Greta: It's one of the products that I endorse.

Jeff: You would do that to penguins?

Greta: I had no idea! They told me that no mammals were harmed in the making of the slippers!

Jeff: But they didn't say anything about birds?

Greta: I guess not! Oh my god. I can't believe it.

Lily: I can't believe you guys are just hearing about this. What do you do on the Internet all day? You are so out of the loop.

Jeff: Uh oh.

Greta: What?

Jeff: Have you logged onto your AmericanDreamD8 profile recently?

Greta: Not since last night. Why?

Jeff: It seems like a lot of people are canceling their requests to date you. They're calling you a penguin abuser. This one guy asked how it would feel to have your eyelashes pulled out. In the Arctic.

Mason: Ouch!

Greta: But I didn't even know! I was out of the loop, how can they blame me?

Lily: If there's one thing people on the Internet are good at, it's blaming people.

Greta: Even when they don't deserve it?

Grammar Point
Go Super to learn "Present Progressive Tense" from this lesson
Quizzes
Go Super to take Quiz
Lesson MP3
Go Super to download full lesson MP3
The iTEP® test
Sponsored by
Discussion
Go Super to Listen
Jeff and Mason notice someone outside holding a sign. He's protesting something. It's something about penguins and their eyelashes. When Greta walks by, the protestor harasses her.

Greta runs in, upset. She doesn't know why the protestor bothered her. Lily can't believe she's not up on what's going on: the slippers Greta endorses use penguin eyelashes to make them soft. People are saying bad things about Greta on the Internet because of it.

Greta doesn't know what to do. How can she be to blame when she was out of the loop?

Have you ever felt out of the loop? How do you try to not be out of the loop?
Comments
Argentina
Japan
Saudi Arabia
Germany
China
China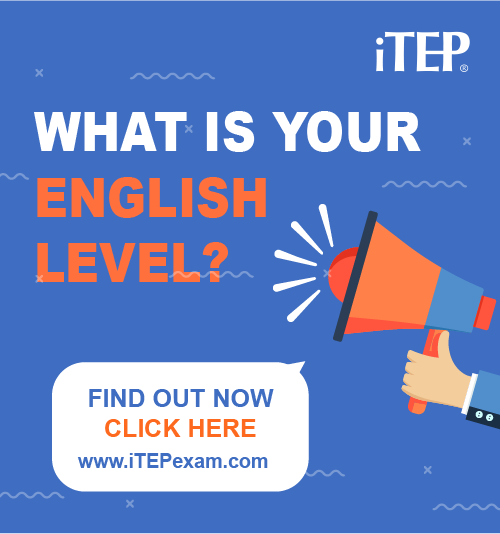 Post Ebaby! lessons on your blog: