Broad Strokes
Intro
1. Learn Vocabulary
- Learn some new vocabulary before you start the lesson.
Go Super to Listen
2. Read and Prepare
- Read the introduction and prepare to hear the audio.
Go Super to Listen
Do you know someone who likes to tell you every detail about their day? These type of people can talk for hours and hours. Sometimes, this is too much information. And sometimes, you might not have time to listen to all of these details. Next time a person is talking like this, you could politely ask them to explain their story in broad strokes.

When we speak in broad strokes, we do not share every detail. Instead, we speak in general about something, and we tell only the most important details. A person might want to tell you about a peculiar new coffee shop. They might begin talking about how the shop looks, how the coffee tasted, where the coffee was from, how jittery and hyper the coffee made them, and many other details. But if you only have a little time, you could ask them to explain in broad strokes instead.

Kelsey had a very confusing dream. Instead of telling Andy every detail, she tries to explain in broad strokes. Watch today's English soap opera to find out what she dreamed about.
3. Watch
- Watch the video without reading the dialog.
Dialog
1. Listen and Read
- Listen to the audio and read the dialog at the same time.
2. Study
- Read the dialog again to see how the vocab words are used.
Kelsey: You know, Andy. After you told me about your 1970s cop-drama dream, I had some pretty fun dreams myself.

Andy_H: Oh yeah? Were you beating crime in the 1970s while walking the fine line between hero and renegade?

Kelsey: Absolutely not. No, my dreams have been super fun.

Andy_H: Oh… um, OK. What are they about?

Kelsey: Well, it's kind of hard to explain, but I'll try to put it into words in broad strokes. Basically, I was making a music video for one of my songs.

Andy_H: Oh, cool. What song was it?

Kelsey: It's a new one.

Andy_H: Wow, that's even cooler! So, basically, dream-you wrote a song.

Kelsey: I guess so, yeah!

Andy_H: Awesome! What was it about?

Kelsey: I think it was about me writing a song about a song that I wrote in my dream for a music video that we were making.

Andy_H: OK. So, in your dream, you wrote a song about a song about writing in your dream about a music video that you…. Nope, I lost it.

Kelsey: It's confusing, right?

Andy_H: Yeah, but you should try and remember the dream so that you can write it down, and we can turn it into a music video!

Kelsey: Really? I don't know. I mean, I like playing music for people, but I haven't really recorded anything before.

Andy_H: It'll be super fun. We'll get everyone together, and we can just have a good time!

Kelsey: OK… but how do I remember the dream?

Andy_H: It's tricky, but I've done it before. Basically, you have to think in broad strokes and try and remember as much as you can about the day you had the dream. If there was anything unique or peculiar... anything you may have talked about, or seen, or done that may have influenced the dream.

Kelsey: OK. Good idea. Let's see… instead of drinking coffee, I had black tea.

Andy_H: And…?

Kelsey: Well, it's funny because I switched from coffee to tea before, and it made me super nervous and jittery. It was actually the day that I interviewed with Dominique. I was so hyper from the caffeine that I brought my guitar, sang her a song, but I still totally got the job!

Andy_H: OK. That's a really cool story, but do you think it had any effect on your dream?

Kelsey: No.

Andy_H: OK, keep thinking…

TO BE CONTINUED
Grammar Point
Go Super to learn "Tag Questions" from this lesson
Quizzes
Go Super to take Quiz
Lesson MP3
Go Super to download full lesson MP3
The iTEP® test
Sponsored by
Discussion
Go Super to Listen
Kelsey had a really fun dream about making a music video. She tries to explain the dream to Andy using broad strokes, but it is a very confusing idea. In her dream, she wrote a song about writing a song in a dream. Andy doesn't really understand her peculiar dream, but he likes the idea of making a music video.

Kelsey thinks that it would be fun to remember the song from her dream so she can make a music video for it in real life. She asks Andy how to remember her dream. He says that remembering dreams is tricky, but it's possible. He tells Kelsey to think about the day before her dream. This should help her remember anything that influenced her thinking that day.

Do you remember your dreams? Would you like to be in a music video?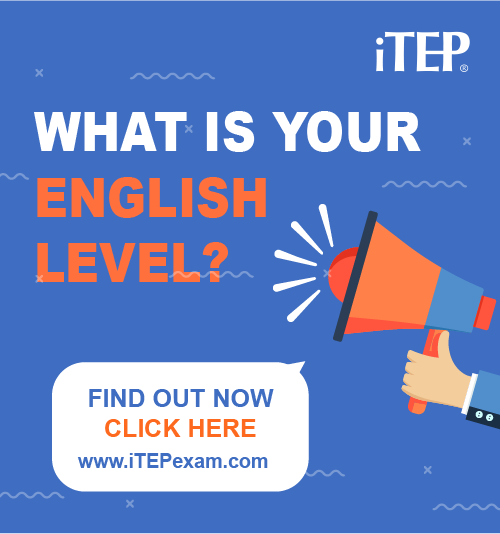 Post Ebaby! lessons on your blog: