Intro
1. Learn Vocabulary
- Learn some new vocabulary before you start the lesson.
Go Super to Listen
2. Read and Prepare
- Read the introduction and prepare to hear the audio.
Go Super to Listen
One of the funny things about buying clothes online is that you don't get a chance to see if the clothing fits you. Unlike shopping at a store, there's no fitting room. You just have to make a good guess and hope that it works out. Usually, it does, but sometimes you end up with shoes that are too big, or a pair of pants that are just too small. When that happens, you might wish that you had been able to try the clothing on for size before you bought it.

To try something on for size doesn't just apply to clothes. It doesn't even just apply to size. It means to try something out before you commit to it. So, for example, if you're thinking about moving to a new town, you might take a vacation there for a week to try it on for size and see if you like it. Or if you're thinking about getting a tattoo, you might give yourself a fake tattoo first, just to try it on for size and see if you like having a drawing on your skin.

Greta's trying something on for size, but Mason doesn't know that she hasn't committed to it yet. Find out what she's trying on in this English lesson.
在网上买衣服很不方便的一点就是,你没有机会试穿衣服,不知道是否合适。和在商店里购物不一样,网上是没有试衣间的。你只能往好的方面猜测,并希望能如你所愿。通常,确实会如你所愿,但有时会很糟糕。比如,鞋子太大,或者裤子尺码太小。当这种情况发生时,你可能会希望能在买衣服前试试它是否合身。

量体选衣不只适用于衣服,甚至,还不单指尺寸的大小。它的意思是,尝试之后再决定是否做某事。例如,你正在考虑要搬到一个新城市,你或许会先用一周的时间去那里度假,看看它是否让你满意。或者,你正在考虑纹身,你可能会先纹个假纹身,看看是否合适、自己是否喜欢在皮肤上纹这样的图案。

格里塔正在试看某件东西是否适合自己,但梅森并不知道她还没有最终决定。在本节英语课上,看看格里塔正在试什么。
3. Watch
- Watch the video without reading the dialog.
Dialog
1. Listen and Read
- Listen to the audio and read the dialog at the same time.
2. Study
- Read the dialog again to see how the vocab words are used.
Greta: Mason, why are you staring at me like that? It's creepy.

Mason: I wasn't staring.

Greta: You were staring.

Mason: Alright, I was staring. OK, maybe, I know it's not really my place, but don't you think you and Jeff are moving a little fast?

Greta: What are you talking about?

Mason: You know, it's just that you guys have only been dating for a couple of weeks.

Greta: I need you to give me a little bit more here.

Mason: Well, maybe it's just my jealousy coming out, because Amanda and I have been married for awhile, and we're kinda of putting it off. And you and Jeff, just a few weeks, already with the-

Greta: You think this is Jeff's baby? Oh my god, that's hilarious! We've only been dating for a couple of weeks! If you could even call it dating.

Mason: Wait. So, it's not Jeff's baby.

Greta: Wait. You really think I'm pregnant?

Mason: Yeah. You are. Look at-

Greta: Oh wow, of course, you weren't at the meeting when I told everybody. I'm not pregnant.

Mason: Really?

Greta: Yeah, I have a role coming up where I play a pregnant woman, and I thought I'd try it on for size by wearing a full-on pregnancy suit.

Mason: Oh! It looks so real.

Greta: I just thought I should try to get into character, you know? And see what it would be like to really be this big.

Mason: OK, so, it's just like a pillow thing that you kind of wrap around you, and it just looks… Yeah, I can see that. Good idea.

Greta: Thanks!

Mason: Is Jeff going to pretend to be a baby daddy, too? Is he going to try it on for size?

Greta: Oh my god, I hope not! That would be moving way too fast.

Mason: That's what I said!
Grammar Point
Go Super to learn "Modal Verbs" from this lesson
Quizzes
Go Super to take Quiz
Lesson MP3
Go Super to download full lesson MP3
The iTEP® test
Sponsored by
Discussion
Go Super to Listen
Mason keeps looking at Greta. In fact, he's staring, and it's making Greta feel weird. It turns out that Mason is staring at Greta because he thinks she's pregnant. He's worried that she and Jeff are having a baby so early in their relationship.

Of course, Greta's not really pregnant, especially not with Jeff's baby. She's playing the role of a pregnant woman in an upcoming movie, so she's wearing a pregnancy costume to see how it feels. Mason can't believe how real it looks.

And Greta assures Mason that Jeff is not part of the pregnancy act. It's much too early in their relationship for that!

Did you think that Greta was really pregnant? Do you think it's a good idea for an actor to learn about his or her character by trying something on for size?
Comments
China
China
United States
Argentina
Congo, Democratic Republic Of The
Congo, Democratic Republic Of The
Mexico
Brazil
Ukraine
Chile
Viet Nam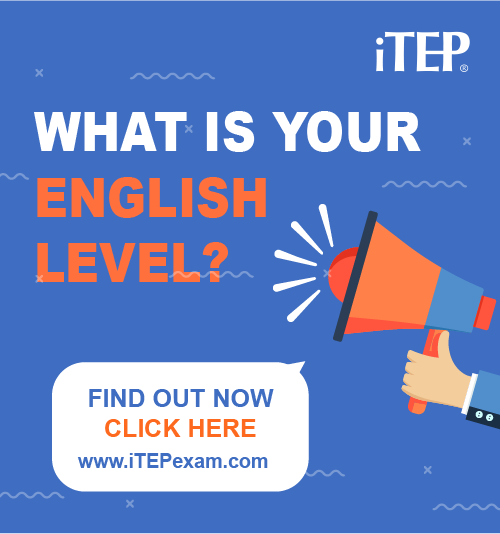 Post Ebaby! lessons on your blog: