In the Dark
Intro
1. Learn Vocabulary
- Learn some new vocabulary before you start the lesson.
Go Super to Listen
2. Read and Prepare
- Read the introduction and prepare to hear the audio.
Go Super to Listen
It's happened to all of us. One minute you're eating dinner or doing your homework, and the next minute the lights have gone out! Sometimes it's the weather, and sometimes it's just a problem with the power company.

If it's late at night, not having lights makes things very difficult. Trying to find your way around a dark house might be OK if it's your house, but what if you're at a friend's house? Or in a completely different place? It would be confusing, a little scary, and very frustrating. It's hard to know what to do when you can't see everything around you.

People say that they're in the dark when they don't know much about a subject or situation. If your friend is throwing a party, but you don't know where or when it's happening, you'd feel in the dark. Or if you've missed a week of classes because you were sick, you might feel in the dark about what your teacher is talking about when you return to school.

Marni wants to take classes at the university, but she feels in the dark about how to make it happen. Learn more in today's English lesson!
3. Watch
- Watch the video without reading the dialog.
Dialog
1. Listen and Read
- Listen to the audio and read the dialog at the same time.
2. Study
- Read the dialog again to see how the vocab words are used.
Brian: So, how did it go at the university?

Marni: I think it went OK. I'm still feeling kind of in the dark, but I am meeting with an advisor, so…

Brian: That's a really good idea.

Marni: Hey, Kellie!

Kellie: Hey, Marni!

Marni: Kellie, this is Brian. Brian, this is Kellie.

Brian: Nice to meet you.

Kellie: Nice to meet you.

Marni: I work in the same office with Brian, and I met Kellie at the registrar's office today.

Brian: You're a student, too.

Kellie: I am. I'm kind of in the same boat as Marni. I'm ready to go back to school, but I'm still not sure what I want to study.

Marni: Hey, are you still looking for an apartment?

Kellie: And a roommate. Why do you ask?

Brian: Oh, we know the perfect place. My girlfriend, Lily, just moved to Paris, and they haven't rented out her apartment yet.

Marni: It really is a great place.

Kellie: I would love to see it. There's only one problem. I don't know the first thing about getting a roommate.

Brian: Oh, easy… just advertise online.

Kellie: What do you mean?

Marni: Just write something about the kind of person you are, and then post it on the internet.

Kellie: Wanted: Handsome musician who can cook and clean.

Brian: Maybe more about your habits, like if you like to stay up late, if you like to have parties, if you're messy… that kind of stuff. Then your new roommate won't be in the dark about the kind of person you are.

Kellie: I could do that. Could I email it to you first, to make sure it sounds good?

Marni: Of course. Here, let me give you my email address, and we could even get together for lunch and discuss it.

Kellie: That sounds fun. Great. Well, I'll write soon.

Brian: See you later.

Kellie: Bye!
Grammar Point
Go Super to learn "Adverbs" from this lesson
Quizzes
Go Super to take Quiz
Lesson MP3
Go Super to download full lesson MP3
The iTEP® test
Sponsored by
Discussion
Go Super to Listen
Brian and Marni are walking down the street, talking about Marni returning to school. Marni is surprised to see her new friend Kellie, and she introduces her two friends to each other. When Marni learns that Kellie still needs to find an apartment, she remembers that Lily's apartment hasn't been rented yet. What great luck!

Unfortunately, Kellie needs to find a roommate before she can rent Lily's apartment. Brian and Marni give Kellie some tips about how she can find a roommate she can live with. Kellie appreciates their advice, but she's still unsure about how to make it work. Marni offers to meet for lunch and talk things over.

Do you ever feel like you're in the dark about how to do something?
Comments
United States Minor Outlying Islands
India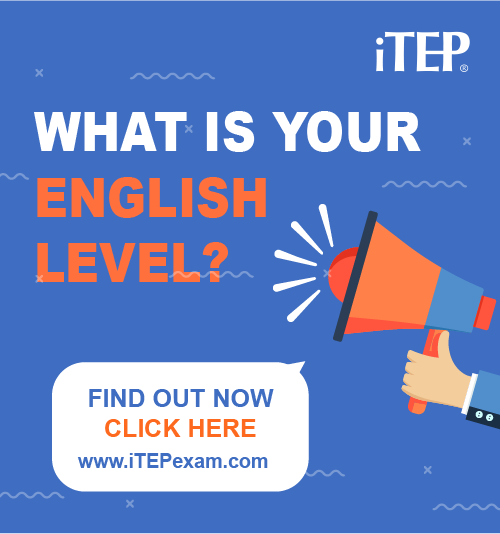 Post Ebaby! lessons on your blog: